Our fight song and the alma mater share one line, one line that has come to mean a great deal to me working for the Alumni Association. "With loyal hearts so true." Five words. You may have noticed I sign these letters using them. Maybe they don't stand out to you at first, but I have the privilege of seeing them on display on a regular basis and know that they were the right words to carry from tune to tune for South Dakota State.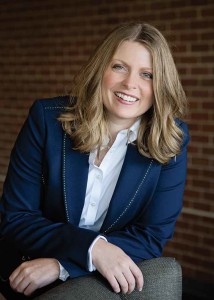 That loyalty was on display for me in two very different ways this fall, both of which you will learn more about in these pages.
The first was August 30, better known as One Day for STATE. A day, 24 hours, launched this year by the SDSU Foundation to celebrate all that it means to be a part of the Jackrabbit family. The response across social media platforms was overwhelming and the energy was contagious. My feeds were full of smiling Jackrabbits near and far sharing their pride and what this place means to them. It was a movement and it was moving!
The second was a day that seemed like a distant dream, a countdown crisis, and an almost unbelievable reality, the September 15 dedication of the Alumni Green project. The theme for the festivities was "Welcome Home" because we hope that is how you will feel about the SDSU Alumni Center addition to the Lohr Building. We hope you will see the photos capturing our history and the items on display in the Alumni Gallery and be reminded of the times you spent here, whether that be as a student, an employee or a friend of this place that inspires such intense loyalty. We hope you will visit often and share our pride in this new space that was made possible through the generous support of more than 900 loyal donors.
The passion that this place ignites in people is truly inspiring. It was evident in these two different events, and it is on display every time I am at a gathering of alumni and friends celebrating their connection to this very special place. I believe this new Alumni Center will create even more of those connections. It is a privilege to be here at this very special time in the history of the Alumni Association.
With loyal hearts so true,
Andi Fouberg
President & CEO of Alumni Association