Many of my STATE magazine columns have focused on strategic planning and the great difference that private funding makes at a public teaching and research university. The strategic plan and private funding are related closely at South Dakota State University.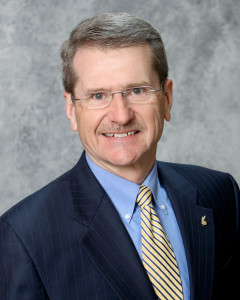 Last spring, the SDSU Foundation concluded its historic comprehensive fundraising campaign, securing $255.7 million in gifts and pledges and celebrated that great accomplishment in suitable fashion. At the same time, university leaders were finalizing IMPACT 2018, the next five-year strategic plan for the university and shared it with stakeholders around the state.
What's next?
It's a perfectly logical question, and I have been answering various forms of it lately. In short, the strategic plan articulates the university's direction, and its goals will be achieved only through the continued strong support from alumni and friends.
IMPACT 2018 calls for a higher-performing university, and several initiatives are in play to create a more effective State. Provost Laurie Nichols has task forces working on collaboration among faculty in three areas—design, health sciences, and economics and management. The task forces' recommendations may prompt leaders to reconsider the university's organizational structure.
I have written about decentralized budgeting, also known as responsibility-centered management, a process that aligns resources closely with students' academic interests and aligns budget authority and program responsibility at the college, or even the department, level. The new system will be fully operational July 1.
A task force recommendation last summer spurred the development of an E3 steering committee to look at lean processes across the university. The outcomes are expected to create and maintain a culture where people are effective, efficient and empowered—the three E's.
A list of very important capital projects requires our collective attention over the next five years. Resources from the Higher Education Facilities Fund, created with 20 cents of every tuition dollar, will be applied toward six construction projects:
• the Architecture, Mathematics and Engineering Building under construction;
• an addition to the Performing Arts Center;
• the partially finished Headhouse/Greenhouse;
• the renovations and new construction of the existing Seed House and West Headhouse into the Visual     Arts and Design Building;
• the Cow-Calf Education and Research Facility; and
• the Swine Education and Research Facility.
These projects—essential to student success and the national accreditation of programs—require about $30 million more in private funding to reach completion.
Additionally, the emphasis on student success identifies about $10 million in new funds for scholarships, $10 million for a five-year classroom improvement plan (including $5 million from private donors) and another $24 million for endowed faculty positions.
The Sanford-Jackrabbit Athletic Complex is taking shape on the north end of campus, and Athletic Director Justin Sell has been leading integrated plans toward a new football stadium.
Many of us will remember 2013 as a year of great celebration. Those collective accomplishments provide momentum for the ongoing efforts to reinforce South Dakota State University's responsibilities as the state's land-grant university to build a better South Dakota by championing the public good through engaged learning, bold and innovative research and creative activities, and stewardship within a global society.
None of the accomplishments are possible without alumni and friends. Thank you for your continued interest in and support of State!
David L. Chicoine, Ph.D.
President
Class of 1969