Staying connected to SDSU just got easier for about 850 alumni who live in the Washington, D.C./Arlington, Virginia, area with the formation of the DC Jacks, State's newest alumni chapter.
It all started January 14, 2011, when alumni relations director Megan Winterboer '07 sent out e-mail inquiries to alumni about starting a chapter in the Washington, D.C., area. On November 29, the DC Jacks ratified their bylaws to become an official alumni chapter.
"It's amazing how a really excited person can make a difference," Winterboer says.
For the DC Jacks, that person is Susanna Marking '08. Marking missed the camaraderie from her years at SDSU and found her spirits buoyed when she discovered more alumni moving into the Washington, D.C., area.
"I loved the sense of 'home' when I spent time with those friends," Marking says. "I thought to myself, 'I'm sure there are more SDSU alumni in the D.C. area that we don't even know about. How can we connect with them and create our own SDSU home-away-from-home out in D.C.?'"
The chapter is off to a robust start with more than twenty-five area alumni on hand when the chapter's bylaws were ratified at its first official meeting in Arlington.
Marking hopes the chapter can host several events a year that may include SDSU sporting event watch parties, happy hours, kickball leagues, luncheons with visiting University leaders, and public service projects.
"It's a pretty young group," Winterboer says. "They're really excited to branch out and network with all sorts of alums."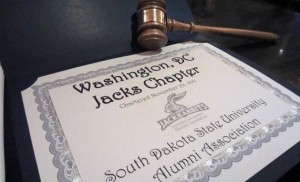 Networking is a key to success in Washington, D.C.
"Networking is an incredible tool in the nation's capital," says Marking, who works in media relations for the Office of Public Affairs at the Federal Emergency Management Agency, "and having a circle of SDSU alumni who work in different government agencies, private companies, and nonprofit organizations is an incredible asset and resource that we can use to help each other in our careers."
The DC Jacks join three other alumni chapters: the Sioux Empire Staters in Sioux Falls, the West River Jacks in Rapid City, and Staters for State student chapter on campus.
Winterboer says alumni chapters are provided with liability insurance and other benefits through the association and they enjoy an official relationship with SDSU.
"We help them with all their marketing and planning—whatever they need," Winterboer says.
She hopes more new alumni chapters are on the horizon, noting ongoing work to build relationships with alumni in Minneapolis, Kansas City, Denver, and Omaha/Lincoln.
To find out more about joining the DC Jacks or forming an alumni chapter, call 888-735-2257 or e-mail alumni@statealum.com.
Dana Hess