Fishbacks make $3 million fund-raising challenge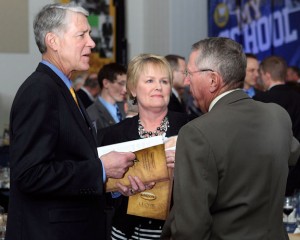 Longtime supporters of SDSU have pledged $3 million to the SDSU Honors College as a challenge gift that could create a $4.5 million endowment for the college.
Van and Barb Fishback, of Brookings, are providing a two-for-one match against other private gifts to endow programs within the Honors College. If fully realized, the $4.5 million endowment is projected to generate $180,000 annually in earnings.
That would more than double the amount now available for Honors College programs and operations.
A condition of the gift is that the $1.5 million in additional giving be raised or pledged by December 31, 2012. A $4.5 million endowment would become the largest SDSU endowment that is dedicated to an academic endeavor. The Ethel Austin Martin Endowments for Human Nutrition were established with nearly $4.1 million in gifts.
Each year about 400 students take honors courses. That is a doubling of enrollment since 2008.
Pride headed to Citrus Parade
Oranges and grapefruit were parting gifts for people attending an early spring concert at SDSU. The fruit symbolized the Pride of the Dakotas Marching Band's acceptance of an invitation to participate in the Citrus Parade in Orlando,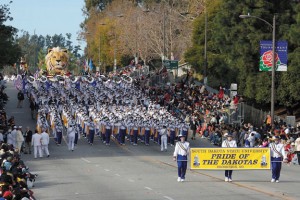 Florida, December 31.
Jerry Jorgensen, retiring dean of the College of Arts and Sciences, made the announcement and congratulated the band and staff members for the addition to the Pride's long-standing reputation.
The Pride also marched in the 2008 and 2003 Rose Parades as well as President Bill Clinton's 1997 inauguration parade and the National Independence Day Parade in Washington, D.C., in 2000, and then Public Broadcasting's Capitol Fourth on the west lawn of the White House that  night.
"The Pride's history of energetic and enthusiastic performances at a number of national events was the primary reason the Citrus Parade Committee granted us an early acceptance," says Jim Coull, director of athletic bands at State.
According to Citrus Parade organizers, more than 87 million households tuned in to the parade in 2009 on ABC-affiliate television stations. Floats made of citrus fruit and highly skilled marching bands attracted more than 90,000 spectators who lined the streets of downtown Orlando to view the parade in 2010.
University looks to build more dorm rooms
SDSU has embarked upon a $150,000 study that could lead to more dorm rooms and a larger student union.
Dean Kattelmann, assistant vice president for Facilities and Services, says the final designs could be complete within nine months. Pending approval of the Board of Regents and the Legislature, construction could start in summer 2012.
The plan would add 800 beds by building a new residence hall in the southeast quadrant of campus and renovating an existing dormitory. The University Student Union would be expanded to accommodate additional dining space.
University officials say all dormitories and residence halls are full. Enrollment has increased an average of 3.7 percent annually during the past ten years.
Football stadium planning gains Regents approval
The SDSU Athletic Department is moving ahead with plans for a new football stadium as well as indoor practice facility and human performance facility after action by the South Dakota Board of Regents June 29.
Officials can now develop cost estimates, location drawings, and financial models.
Once those plans are complete, University officials must return to the Board of Regents and ultimately the state Legislature to seek final approval before beginning construction. Financing cannot come from the state's general fund or the University's operating revenues.
Construction and operating costs are to come from private donations, sponsorships, and ticket sales.
The indoor practice and human performance facility would provide a year-round training facility for athletes in all sports while expanding sports medicine and rehabilitation programs. It would be built north of  the Dykhouse Student-Athlete Center.
A new 20,000-seat football stadium would be built on the site of the fifty-year-old Coughlin-Alumni Stadium.