SDSU is assisting in relief efforts following devastating Missouri River flooding that has affected large parts of South Dakota.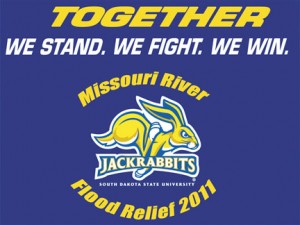 Flood waters from the Missouri River have destroyed countless homes and businesses, displacing thousands of residents throughout South Dakota.
Jackrabbit Athletics has produced "Together: We Stand. We Fight. We Win." T-shirts, with all proceeds from each shirt sale — $20 — going to support flood relief statewide.
Shirts will initially be sold through the University Bookstore and online at www.jackrabbitcentral.com.