Standing with other Jackrabbit basketball fans in Frost Arena to welcome the 2012-13 edition of the Yellow and Blue's basketball team before a game early this season, memories came to mind of the dire predictions should the university move up to Division 1 athletics.
Such a move, the naysayers advised, would mean the last of having athletes from South Dakota and the surrounding area in SDSU uniforms.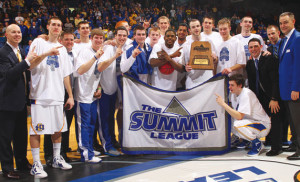 Our coaches would be traveling the nation and the world for the special athletes we'd need to compete in the D-1 arena.
In November 2002, a Brookings Register poll showed an even split between SDSU going D-1 or remaining at the D-2 level.
Fortunately, the move to D-1 was made.
And just weeks ago, a decade after the change, I listened as the Frost Arena announcer introduced the Jackrabbit's starting five for the evening's contest:
Senior Tony Fiegen, 6'7", of Madison, South Dakota;
Junior Brayden Carlson, 6'4", of Brookings, South Dakota;
Junior Chad White, 6'6", of Madison, South Dakota;
Senior Nate Wolters, 6'4", of St. Cloud, Minnesota;
Junior Jordan Dykstra, 6'8", of Rock Valley, Iowa.
Checking the program I noticed other young men on the roster, like Cory Jacobson of Viborg; Joey Fielmeier of Jefferson; and Zach Horstman of Winner.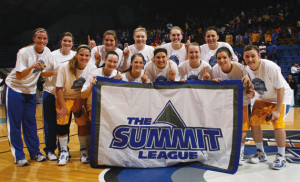 So much for the far and wide search for Division 1 athletes.
The women's basketball team has seven talented athletes from South Dakota. There's Tara Heiser of Watertown; Steph Paluch of Pierre; Chloe Cornemann of Yankton; Rachel Walters, Anne Amlid and Ashley Eide, all of Sioux Falls; and Katie Lingle of Pierre. The others are from nearby Minnesota.
The women, by the way, have competed in the NCAA March Madness tournament in their first four years of eligibility. No other university can say that.
And then, of course, the naysayers worried that by moving from Division II to Division I, SDSU coaches would run the risk of recruiting many athletes who might be challenged academically.
Several weeks ago the Missouri Valley Football Conference released its 2012 all-academic football team. One in every four on that list had SDSU following their names. No other school in the conference could match that.
On the first team were Alex Olinger, 3.99 pharmacy/biology; Taylor Suess, 3.95, mechanical engineering; and national rushing leader and All-American first-team sophomore Zach Zenner, 3.79, biology/premed major.
Six of the 13 on the second team wore yellow and blue, as did the two SDSU players on the honorable mention list. The list had 44 young men on it.
SDSU had seven players named to the Capital One All-District Six team, more than any other D-1 team.
The Jackrabbit football team this year earned its fourth consecutive Missouri Valley Football Conference all-academic award.
Ten Jackrabbits were named to the all-Missouri Valley Football Conference Team, proving that Jackrabbits study hard and play hard.  I'll wager that perhaps, just perhaps, the students of today who aspire to play Division I sports for State, also aspire to be Division I students as well.     So after eight years at the D-1 level, we're all Jackrabbit proud of what has transpired.
Yesterday's Division I skeptics, the former naysayers, are today among the Jackrabbits' most vocal "yea" sayers.
Chuck Cecil '59/'70 is a retired publisher and faculty member who regularly writes on area history.