Brookings, South Dakota State University looking to bring in senior expertise
Gene and JoAnn Goodale are SDSU alums. Al and Carole Johnson are not.
It's a difference that doesn't matter when talking about growing an active adult retirement community base in Brookings with the major drawing card being SDSU.
"University towns are becoming increasingly popular as retirement destinations," says Al Heuton, executive director of the Brookings Economic Development Corporation. "Brookings has a great deal to offer seniors.
It's safe, intellectually-stimulating and high-quality health care is at your doorstep.
"The city benefits, too, since the economic impact of each new retiree household is equivalent to bringing in 2.75 primary, value-added jobs."
Living in the Seattle area and looking for a place to retire, the Johnsons began searching for a university community that offered the type of cultural experiences they liked without the hustle and bustle of a large city.
They settled 11 years ago on an acreage north of Brookings, mainly due to Al's extended family connections in the area.
"We were looking for a university town, because a university town has everything that you are used to in a big city," says Johnson, citing sports, symphonies and plays – all at retirement prices, too. "We'd go to a Seahawks' game and it costs $250 for lunch, parking and tickets. Here we can get in for $25 and park right in front of the stadium."
The Johnsons are heavily involved with the SDSU Foundation, and in their will they are leaving everything they own to their "adopted" university.
According to their estate plans, they will create an endowed chair in rural nursing. They have given to the Honors College and they currently support four Jackrabbit Guarantee scholarships, two in nursing and two in engineering.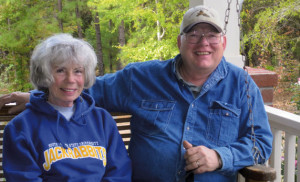 "We found SDSU to be so inviting and so committed to students that we jumped on the bandwagon and they have accepted us like family," says Johnson, a University of Washington electrical engineering graduate who retired as general manager of U.S. West telephone in Washington State.
"Let's face it, Brookings is a pretty nice town to live in. We're absolutely satisfied with our new life in retirement."
Senior influence to students
The Goodales began their life together at SDSU. Married for 55 years, Gene earned a civil engineering degree from State in 1957 and retired four years ago as a trademark attorney with Caterpillar. JoAnn, a 1959 SDSU nursing graduate, continues to work part time as a nurse case manager for Encore Unlimited.
"About five years ago we began to think about where do we want to spend the golden years of our life," says JoAnn from their home in Pekin, Ill. "From talking to people and doing our own research, we found that if you're going to move to a permanent place to retire, the best place is with a university."
They plan to put their Victorian home on the market in the spring with hopes of moving into an apartment in Innovation Village near McCrory Gardens.
"We are very anxious," says JoAnn. "We shared our thoughts with other people our age and they all say that's not a bad idea. We didn't want to buy a condo or a house. We just wanted to be free to shut the door and not have all the upkeep."
The Goodales don't see themselves simply as retirees settling in and watching the sunset, but rather they are looking forward to interacting, learning and gaining from the younger generation.
"Seniors add something," reasons JoAnn. "By themselves they need the younger people, the excitement that makes life go on. We aren't about to sit in a retirement home or a nursing home. They're full of old people."
Chimes in Gene, "There's a plurality of young people at a university setting, not just old-timers!"
Besides rubbing shoulders with the college crowd, "adding something," according to JoAnn, means using their years of experience as a way of making
a difference.
"There are a lot of young people who we can associate with," she says. "Sometimes older adults can be of assistance to students who haven't made up their mind where they want their career to go. We can offer experience and help them to decide.
"There are many benefits moving to a community with a university environment. We don't see many downsides.
Growing research, mentors
The Goodales' reasoning brings a smile to Heuton. "One of the elements
we are after are those people who want
to be located next to their alma mater or in that environment where they can interact around students and the activities on campus."
Heuton also sees retirees enhancing the research and growth agenda at SDSU and at the same time growing the science and technology economy in the community.
"Retirees have a wealth of business knowledge as well as technology and science experience," he says. "They could play an important role in growing the economy in Brookings and at SDSU."
Heuton draws a scenario that can be a win-win situation for all parties: the Brookings community, retirees, and SDSU and its students.
"Some people come back because of their alma mater or they like Brookings. They can live in a vibrant, Midwest community that has Division I sports and all the other activities that go with a Division I university.
"They can take advantage of the continuing education options if they want to attend classes, and if they are interested in business, they can be a business mentor or an investor in companies – that's all fantastic and it fits right in with the type of development we are trying to create."
For those interested in taking a retirement survey and learning more about Brookings as an active adult retirement community visit www.retireinbrookings.com.
Kyle Johnson