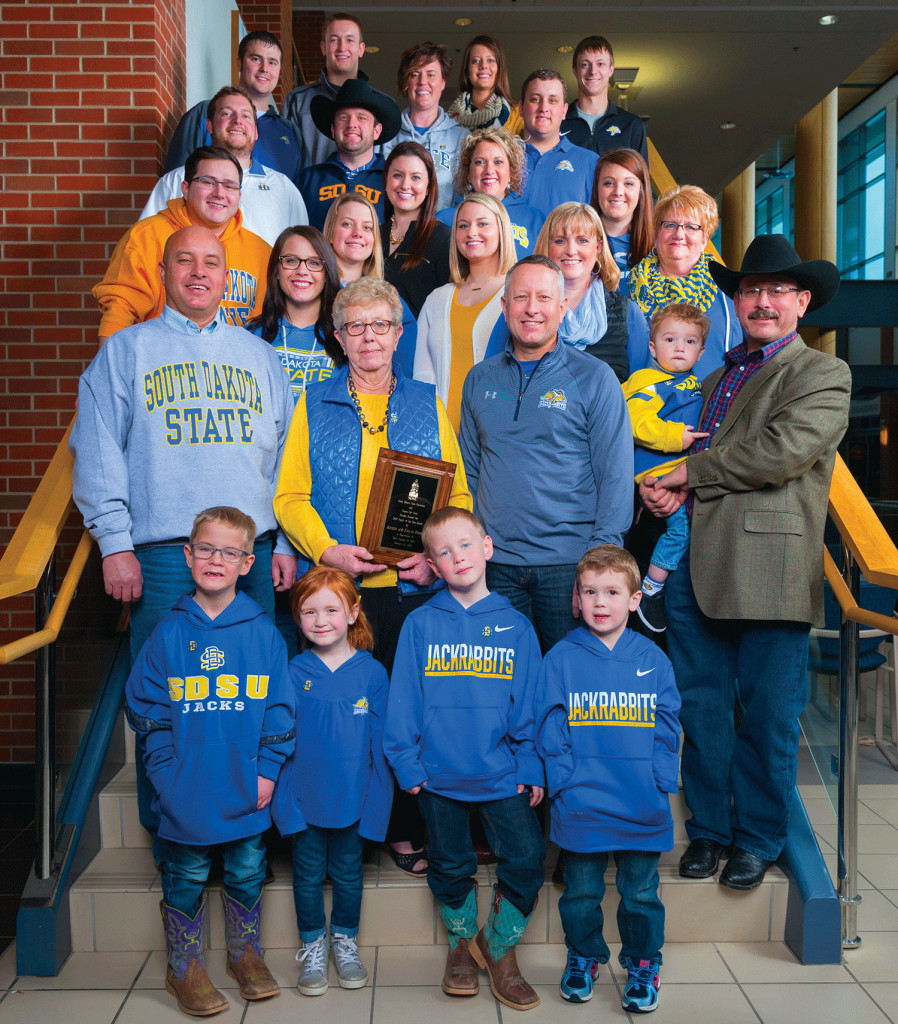 Evelyn Powell's insistence that her boys get a college education before returning to the farm has produced in spades for the family from Chamberlain.
All four of the sons of Arthur and Evelyn Powell earned degrees from South Dakota State University. A majority of their children also made Brookings their college destination. The Powells were honored as Family of the Year by the SDSU Alumni Association in cooperation with Staters for State, the student alumni organization.
They were recognized at halftime of the Feb. 25 men's basketball game against Denver as well as at a luncheon before the game.
The boys—Greg, Brad, Gary and Todd—were all raised on a 1,500-acre crop and livestock farm 21 miles south of Chamberlain. They loved it and all wanted to return to the farm. But this was the late 1970s and early 1980s. The economics of agriculture didn't match the Powell boys' optimism for the occupation, Greg Powell said.
"You need to meet my mother. We all wanted to go into farming. She said, 'You will all graduate from college so you have something to fall back on,'" Greg said.
So he became the first of the Powell extended family to go to college when he enrolled at State in fall 1978. Brad followed a year later. Gary arrived in 1982 and Todd in 1984. The decision on where to attend school was an easy one given the sons' interest in agriculture and the university's emphasis on agriculture, the elder siblings said.
21 in family attend SDSU
Two of Evelyn Powell's grandsons are currently attending SDSU. Alex graduated in May while Nathan is a freshman. Both are engineering majors.
Counting sons, spouses, children and in-laws, 21 Powells have attended SDSU since 1978.
Here is the breakdown:
Greg, a 1981 ag engineering graduate, has seen all four of his children attend State and two are married to SDSU grads. They are Clint and Andrea (Marty) Powell, Kayci (Powell) and Matt Halbersma, Carson Powell, and Connor and Kelsey (Repenning) Powell.
Brad, a 1982 agronomy graduate and spouse Jill (Megard) have seen all three of their children attend State and one is married to an SDSU graduate. They are Emily (Powell) and Mitch Kranz, Melissa Powell and Alex Powell.
Gary, a 1986 ag engineering graduate, has had one of his three children attend State. That is Hannah (Powell) Farber.
Todd, a 1988 agronomy graduate, has seen three of his children attend State, one is married to a State grad and the other two aren't college age. They are Rebecca (Powell) and Matt Herman, Elizabeth Powell and Nathan Powell.