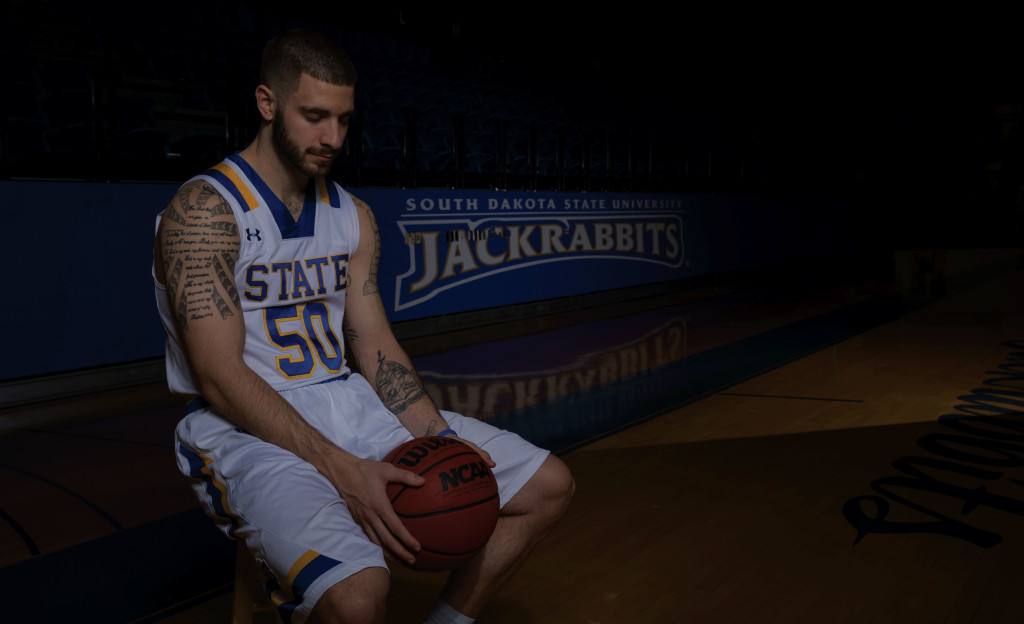 Michael Orris' journey to South Dakota State University can be traced to his older brother, Billy.
As a sixth-grader, Michael would follow Billy and his friends to the YMCA to play basketball.
"He was my rock and my protector and my motivator. He always pushed me to play basketball and go hard in it. He stressed that it was what I was created to do, and he wanted me to use those talents," Orris said. "He knew I was going to be good, so all throughout middle school and high school he was pushing me through the recruiting process and on the court helping me all the time."
Their relationship was a strong one, further demonstrated when Billy left his job and moved to Manhattan, Kansas, to help his younger brother adjust to college life as a freshman at Kansas State University.
Unfortunately, Billy was not in person to see how Orris and the Jackrabbits fared this season. Billy died in a motorcycle accident on his way to get something for Michael's 21st birthday in August 2015.
However, Michael thinks Billy was able to take part in the season. In fact, his pregame routine—where he broke the huddle and stood near the free-throw line, where he squatted and said a prayer—is about the possibility of Billy getting the chance to see how his little brother is doing.
"I pray 'Lord, if you are willing and able and it's allowed, please let my brother watch this game today; give me strength to honor you in every way that I can on this court today and let me be with you. Let's have a good one,'" said Orris, who then kisses his brother's tattoo on his left forearm, points to the sky and gets ready to play.
"That started at NIU, the year after he passed," said Orris, who played two seasons at Northern Illinois University before coming to State via the NCAA's graduate student transfer waiver program. "I did that every game that season and carried it on to SDSU. At that point, in that moment, I'm definitely in my own little world. The moment I kiss his tattoo and point up, everything opens and it's go time. At that moment, it's me and God, and hopefully my brother. After that moment it's battle time."
Michael says the pregame routine is more than honoring his brother.
"I think it plays into how I live my life. Billy was very much into his faith, outspoken about that so now as I gain a platform and have an opportunity to share my story and my faith, I try to honor him by being more outspoken in my beliefs and what God has done in my life—how He has brought me through the fires of my life to the position I am now," Orris said.
"I think the only way I was able to make it through what I've gone through is my faith and having hope that if I continue to be faithful, honor God and never give up, I will, in the end, push through the adversity."
That faith not only carried Orris through the loss of his brother but also to State.
Then-new Jackrabbits' men's basketball coach T. J. Otzelberger had told people around the nation he was looking for a point guard for the 2016-17 season. As a result, Northern Illinois assistant coach Lou Dawkins contacted Otzelberger.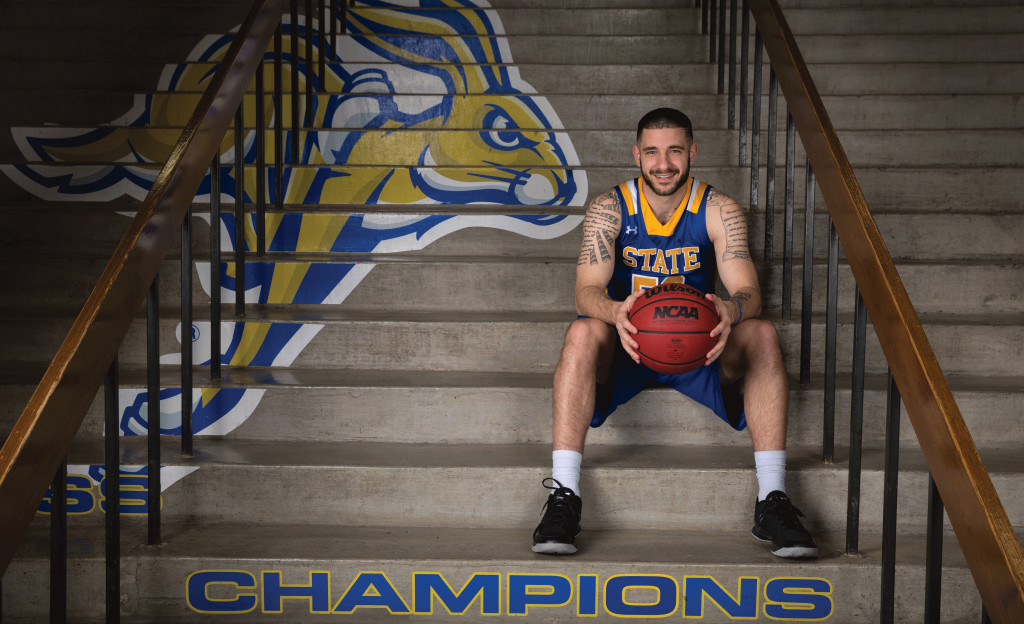 "Lou reached out to me and said 'you said you might be needing a point guard. Based on what you've told me you're looking for, we might have a guy who fits what you need if you need an experienced guy to come in, and provide some leadership,'" Otzelberger said.
While Otzelberger contacted other coaches about him, Orris anxiously waited for a call to lead him to his next stop.
"After I got my graduate transfer, I prayed to God every day," Orris said. "I didn't know which schools were going to call, or if any were going to call because my stats were terrible at NIU. I prayed 'please give me that one coach, that one school, that one system that fits me.' Low and behold, we had that phone call and sparks were flying."
Otzelberger agreed that Friday morning call, which lasted more than an hour, was a key point for him.
"I admitted to our coaching staff after getting off the phone with Michael that we haven't watched enough film on him. I admitted I needed to watch it, but I told them going into it that I really like him, I'm really pulling for him and I really want to coach him," Otzelberger said. "Unless there are some major red flags or unless we think he can't play, he's got me. I really like what he's all about."
The two talked about Orris' wish to have a strong player-coach relationship, the chance for Orris to be part of something bigger than himself and have the chance to play in a winning program that makes the NCAA Tournament.
While Orris did achieve his wish of a strong player-coach relationship, one in which both parties admitted to having the same play in mind on more than one occasion, a successful season wasn't always a possibility.
In January, the Jackrabbits were in jeopardy of not qualifying for The Summit League Championship in Sioux Falls. State was 1-5 in league play at the time and in last place. Orris, who stepped into the starting lineup when The Summit League season opened despite playing only four nonconference games, didn't waver about his decision to come to State.
"I've said it before but when you have your back against the wall in life, you either fold or push through it," Orris said. "Adversity hits you in life in many different ways. Most of the team had not faced adversity in life and what that entails so this season was the biggest adversity they had faced. None of the guys had experienced a losing season before. And until this year, no one had felt what it was like to lose at home. That's insane.
"When we got to that point, it brought us closer together instead of forcing us apart," he continued. "We looked at each other and said 'we spent too much time together building relationships and spent too much time in the gym,' so we're going to do it for us; going to do it for the coaches. We're going to get out of this because we know how talented we are. We knew we should go to the NCAA Tournament and always believed that but we were sitting in last place. We were looking around and saying that's not happening. It was time for fight or flight and these guys wanted to fight. It was really, really cool to see. We came together, and the rest is history."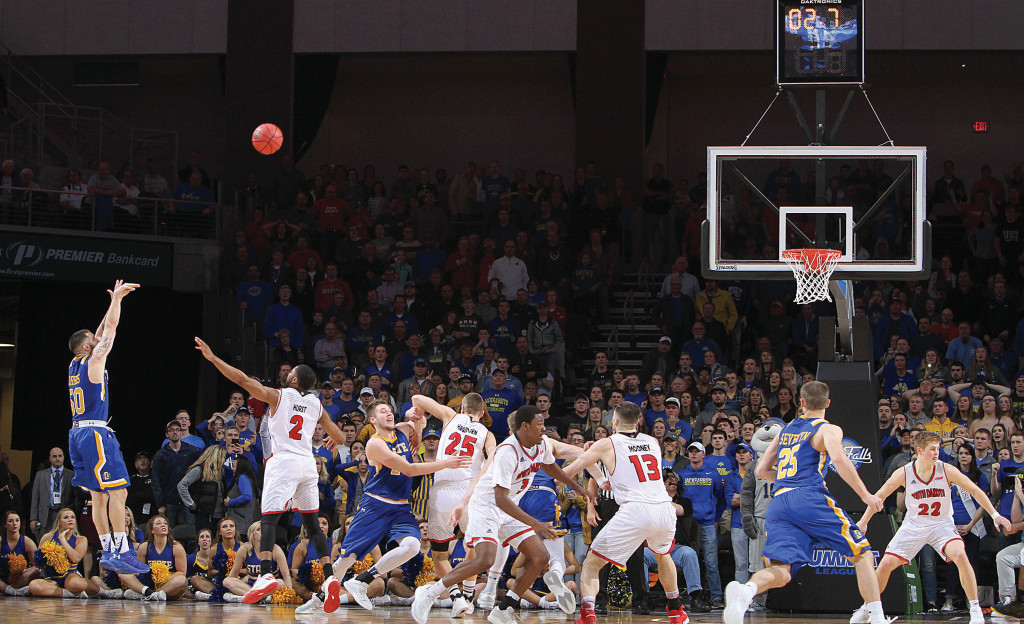 However, it took a shot by Orris to get the Jacks into The Summit League Championship final against Omaha. State trailed South Dakota most of the semifinal game but had a chance for a game-winning shot in the final seconds. While the play was diagrammed for Mike Daum—the nation's second-leading scorer—to take the shot, it didn't turn out that way.
It was Orris who attempted, and made, that shot to give the Jacks a 72-71 lead with 1.5 seconds remaining.
"Normally, the play starts on the right side but I got the outlet on the left side so I'm trying to cross back over to the right side and Mike (Daum) dang-near runs me over," Orris said. "I could tell he was a little frantic trying to get to his spot. I look up at the clock and realize I'm not going to be able to get over to the right side and then initiate the play going back to the left. We're just not going to have enough time. I'm dribbling and glance at the clock again. I'm thinking we're not going to get this off. I veered back at the 3-point line, looked back up at the clock again, saw my opening, stepped in and took it."
Orris, still shaking his head in disbelief about the play despite it being nearly one month after it happened, said he knew the 18-foot jump shot was going in as soon as it left his hand. This statement coming from someone who was making less than half of his layups at one point in the season.
While the shot made Orris' name a fond memory by most of the tournament-record 11,235 fans that night at the Denny Sanford PREMIER Center and others watching on TV, Otzelberger has a different reason why he'll mention Michael Orris when talking to future teams.
"I don't want to say it was redemption for a college career that hadn't gone the way he had hoped or thought would go but it was very appropriate based on all of his struggles he had been through that he hit that shot," Otzelberger said.
"I'll always have the Michael Orris story. I'll always be able to say this is the standard of leadership we're looking for and Michael set the tone for that," he continued. "I'm a little bit of a storyteller and Michael Orris will be a name that comes up a lot in the future of my coaching career. It will not be because he made that shot but because of who he became for the team to be what it needed. It's ironic that in doing lots of selfless things, he's the one who made the shot."
Matt Schmidt