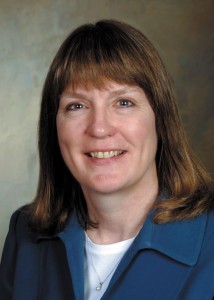 Kristi Tornquist, of St. Cloud, Minnesota, began work July 22 as chief university librarian.
She replaces David Gleim, who retired after four years.
Tornquist will direct the work of thirty staff and faculty members and will oversee the extensive resources of Briggs Library, including hundreds of online resources, more than one million paper volumes, and a large collection of government documents.
During her time as dean of St. Cloud State University Learning Resources and Technology Services, Tornquist provided leadership for campus academic computing, library, and media services.
She has also served as director of library and information services at Southern Arkansas University and held appointments at the University of Minnesota-Minneapolis, University of Wisconsin-Superior, University of Wisconsin-Stout, and University of Minnesota-Duluth.
Tornquist received her doctorate from the University of Minnesota in higher education administration, her master's in library science from University of Wisconsin-Madison, and a bachelor's degree with majors in mathematics and English from the University of Minnesota-Morris.