After 100 years of observing "the biggest one-day event in the Dakotas," there is no need to revamp the Hobo Day recipe.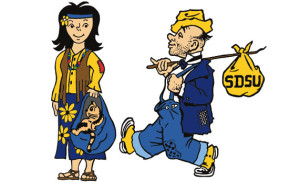 Thus the 2013 celebration will roll out under the theme "The Tradition Continues," according to Grand Pooba Casey Janisch, a senior from Clark, who will preside over the Oct. 5 event and the festivities leading up to the SDSU homecoming Saturday celebration.
Janisch and his 12 committee members have had the 1912 Bummobile out to parades in Volga, Bruce, Clear Lake, Clark and Yankton this summer.
For many people, including Janisch, Hobo Day is the parade.
"My favorite part by far is the parade. Tons of volunteers from across campus come together," says Janisch, who in 2012 served as animal and special entries coordinator for the parade. "You get to see all the floats and other entries. Then at the end you get to ride through on golf carts with the other committee members and everybody is cheering."
While everyone enjoys the marching bands and old cars, homecoming parades are synonymous with floats.
At the 100th observance of Hobo Day in 2012, an effort was made to bring back that tradition of decades earlier. Janisch says the committee is seeking funding that student groups can apply for to offset float-building costs. The City of Brookings already made a contribution.
The Students' Association, community organizations and alumni also will be approached for donations, he says.
One event that was initiated in 2012 is the Bum-Over. It's like a sleep-over for college hobos. Students create a shanty city with all of their own supplies, play games and enjoy live music. This year's Bum-Over will be on Sexauer Field, the fenced track area at the end of Rotunda Lane.
Last year, when Hobo Day was Oct. 27, the event was inside the Animal Science Arena. Janisch hopes that an outdoor venue earlier in the fall will draw an even bigger crowd.
In addition to student activities, a number of alumni gatherings are planned for Oct. 4-5.
Hobo Day 2013—The Tradition Continues
Monday, Sept. 30
Jackrabbit Pep Rally—Frost Arena (time TBD)
Tuesday, Oct. 1
The Great Hobo Race—throughout campus
(start at the Weary Wil statue at 6 p.m.)
Wednesday, Oct. 2
Bum-a-Meal—throughout the Brookings community (meet on Main Street in the University Student Union at 5:30 p.m.)
The Miss Homelycoming Pageant—Performing Arts Center (8 p.m.)
Thursday, Oct. 3
The Bum-Over—Sexauer Field (8 p.m.)
Friday, October 4
Dirty Lil Statue Unveiling and Dedication—Hobo Day Gallery and
Plaza (5 p.m.)
Distinguished Alumni Banquet—Swiftel Center, 824 32nd Ave. (6:30 p.m.)
Cavorts Talent Show—Performing Arts Center (8 p.m.)
Saturday, Oct. 5
Hobo Day 5K—Register at Taco John's parking lot. (8 a.m. race start)
Hobo Day Parade—Medary Avenue to 6th Street to Main Street (9:30 a.m.)
Alumni Tailgate Tent—North of Coughlin-Alumni Stadium (11 a.m.)
Hobo Day Football Game—Coughlin Alumni Stadium (2 p.m.)
Additional Events
The One Month Club (Sept. 5—Oct. 5)
Paint the Town—downtown Brookings (throughout Hobo Week)