New Alumni Association's president/chief executive officer takes reins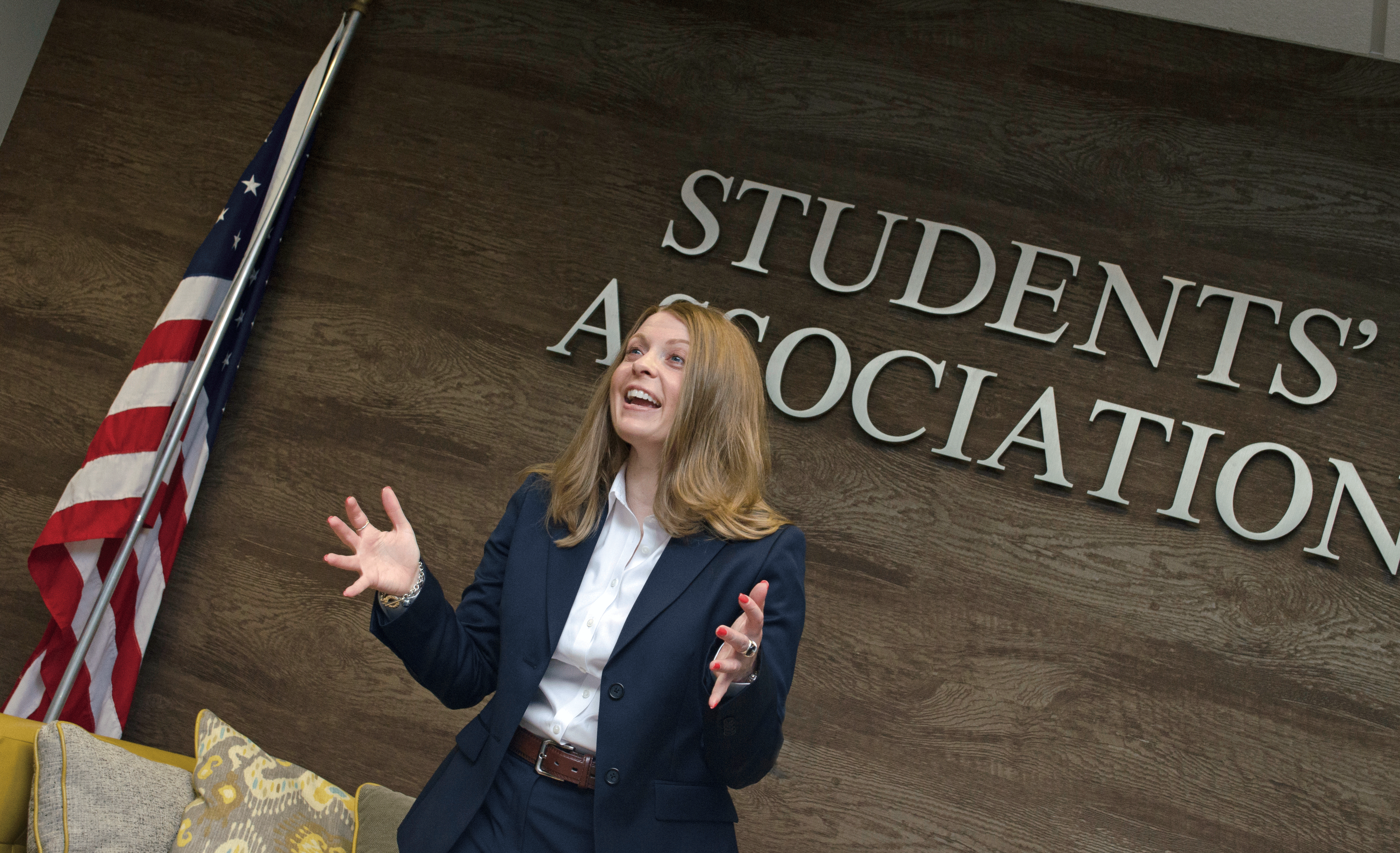 Andrea 'Andi' Fouberg left her mark on the South Dakota State campus during her time as a student and as an employee and now has an opportunity to continue that process. Fouberg '99 started in July as the Alumni Association's president/chief executive officer.
"I don't know if I thought about it as a student, but as someone looking to return to South Dakota, and specifically SDSU, it always seemed like a good fit for me," said Fouberg, who was working as Sen. John Thune's communications director before taking the Alumni Association position.
Her previous job at State was serving as a project coordinator. Fouberg also worked as an admissions officer for the South Dakota Board of Regents following graduation. "I truly loved my time as a student at State and get excited learning about the experiences of others and the things our alumni are passionate about."
For Fouberg, that passion started when she made her official campus visit while attending Artesian-Letcher High School.
"When I visited SDSU for my official campus visit, it was one of those perfect fall days in Brookings. The trees were colorful, there was a light breeze, you only needed a sweater, a bunny hopped across my path by what was then Ag Hall—it was perfect," Fouberg recalled. "I really connected to SDSU during my time as a student and since moving away have tried to get back as often as I can whether it is a quick trip to the bookstore, a football or basketball game, an Alpha Xi Delta event, a play, touring a new facility, or just to say hello."
Elected the 1998-99 Students' Association president, Fouberg made an impression on her peers as well as others on campus.
"My first interaction with her was in the lower level of the union, which had once been home to 'student enrichment programs' and student activities, and I believed her to be a full-time professional," said Jennifer Novotny, the University Student Union's director of student activities. "She was sharp witted, strong minded, and forthright with her thoughts and opinions. I never swayed from my initial impression of her: 'wow—there's nothing that this woman can't do!'
"Since then, I have been fortunate to call her a colleague and friend. I believe she IS SDSU," Novotny continued. "She has always stayed connected with SDSU long after her career began in D.C. She was never too busy to mentor young women, or sisters, of Alpha Xi Delta or provide sound advice to advisers and student leaders of the chapter."
Fouberg's on-campus connections carried over to other extracurricular activities. She also was a member of The Pride of the Dakotas and present at numerous athletics events, something she tried to continue despite the distance from Washington.
"I haven't missed a Jackrabbit Summit League Tournament basketball game and can probably still play the Pride fanfare on my trumpet—although I'm not sure my neighbors would appreciate that," she said. "Narrowing the list to the best memory from my time as a student would be next to impossible. My first time marching at Coughlin-Alumni Stadium, hearing "The Pride is back!" will always stay with me, I still get goose bumps. And then there's the night I was elected SA President. Allyson Stroschein threw her keys in the air in celebration behind the Alpha Xi Delta house, and we spent the next 20 minutes searching the snow for them."
She looks forward to creating similar memories when returning to campus.
"I have loved living in D.C. for the last nine years, but it has never felt like home," she said. "My office in D.C. leaves little question as to where I went to school as there is something SDSU-related on every wall, which they kind of asked for when they gave us blue carpet and yellow walls.
"I always knew I would come back to South Dakota someday; I just didn't know when that day would be. SDSU has always felt like home, and I've managed to stay fairly connected to campus over the years so this job seemed like the next right step for me," Fouberg continued. "It will be nice to be able to go to athletic events rather than watch them on GoJacks.com, but I have enjoyed throwing Jackrabbit watch party events. I also have two nieces ages 3 and 5 who are raising their parents outside of Madison. I need to make sure they are the next generation of Jackrabbits."
In her role with the Alumni Association, she will focus on previous generations of Jackrabbits while also paying attention to the current generation to help make sure they have a similar affection to State.
"I am looking forward to hearing ideas from alumni about the kinds of programs and information they would like to see, how they want to connect to their alma mater and to one another," Fouberg said. "A significant percentage of my closest friends and mentors trace back to my time at State, which is probably the best thing for me."
Matt Schmidt