Fall is my favorite time of year at SDSU with campus bustling with the promise of another great year, football on Saturdays, and the colorful leaves on the trees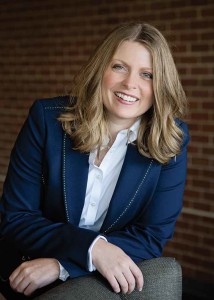 decorating our little piece of the prairie. In this issue of STATE magazine, we celebrate what game day at SDSU looks like today. A home football Saturday is about so much more than the game (apologies Coach Stig). It is about alumni coming back to campus. It is about the hundreds of staff and volunteers it takes to make the day a success. It is about The Pride of the Dakotas entertaining thousands of fans. It is about cheering on student athletes who have worked for years to get to this pinnacle. It is about a community coming together to celebrate.
On Sept. 22, 1962, South Dakota State College celebrated the opening of Coughlin-Alumni Stadium, replacing the previous home of Jackrabbits football, State Field. Sept. 10, 2016, began a new era at South Dakota State University as the Dana J. Dykhouse Stadium became the new home of Jackrabbits football.
As campus has continued to grow, so has the experience that is game day at SDSU. With the decision to move to Division I athletics came a heightened game-day experience. Lights enabled the opportunity for evening games. Tailgating stretched the game-day experience beyond the three hours of a game. Game day for the Alumni Association is now an almost all-day, all-hands-on-deck experience as we welcome hundreds of alumni and friends back to campus with the rest of the campus community. Now, a new stadium brings an opportunity to not only enhance the game-day experience, but a facility that can be used year-round to host groups on our campus.
We celebrate this inaugural season in the $65 million, 19,000+ seat Dana J. Dykhouse Stadium by giving you a glimpse of what game day at SDSU looks like. The people who made the stadium possible. The people who make game day possible. We understand that not all of you will make it to Brookings to experience a game (although wouldn't that be great!), and we recognize that not everyone who reads this magazine is a football fan.
We attempt to tell the story of SDSU through the lens; a snapshot of a bustling college campus. Frame the celebration of opening a new chapter in our shared story. Color the picture of how everyone coming together represents our past, present and future. Our version of what happens on college campuses across the country every Saturday, except in this case, we do it in the light of a once-in-every-50-years event.
"Ring the bell for South Dakota
The Yellow and the Blue;
Cheer the team from South Dakota … "
With loyal hearts so true,
Andi Fouberg
President &CEO
SDSU Alumni Association