Webster's New World College Dictionary defines a marsh as a tract of low, wet, soft land that is temporarily, or permanently, covered, with water, characterized by aquatic, grasslike vegetation.
Paul Errington defined a marsh as interesting and beautiful with enduring attraction.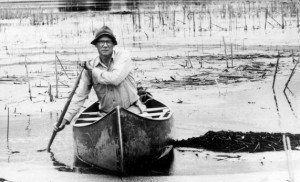 Passionate nature advocates are nothing new for SDSU. Errington (1902–1962) was an animal ecologist, conservationist, writer and teacher; a wildlife research pioneer who was featured by Life magazine in 1961 as one of the top 10 outstanding naturalists of North America.
Born in Bruce, Errington's interest in the outdoors began with hunting on the family farm and led to a career as a trapper. After encouragement from friends, he began taking courses at South Dakota State College (University), staying out during winter term to trap. After earning his undergraduate degree from State in 1929, he added a doctorate in philosophy from the University of Wisconsin in 1932. He then joined the Iowa State College (University) faculty where he spent his academic career. He married Carolyn Storm in 1934 and had two sons, Peter and Frederick.
During his time at Wisconsin, Errington met Aldo Leopold, the pioneering environmentalist and author of "A Sand County Almanac." The avid outdoorsmen developed a close friendship over their mutual passion for the natural world.
Errington's studies utilized skills from his early days hunting and trapping. "He inhabited the marshes and forests in which he lived," says son Frederick Errington, a former distinguished professor of anthropology at Trinity College in Hartford, Conn. "He was always amazed at nature's resourcefulness."
Errington also was a nature writer, publishing more than 200 journal articles. He authored four books, striving to reach popular audiences with his ideas on conservation. "Of Men and Marshes" was published in 1957 – a time when few books had considered the idea of saving wetlands from drainage. A review in The New Yorker said, "He speaks to us here … not as a scientist but as a man and a human—his method is to show us a marsh as his home … and let us see for ourselves the beauty and wonder that are there."
Errington's writing combined ecology with philosophy. His ideas helped increase public awareness of the need for preserving wetlands and protecting their inhabitants. "He lived with them," says Deborah Gewertz, Frederick's wife and the G. Henry Whitcomb Professor of Anthropology at Amherst College in Amherst, Mass. "He knew every quail in the covey and could tell you what happened with each of them."
At the 2000 dedication of the Errington Marsh in Story County, Iowa, Carolyn Errington remarked: "Paul had two distinguishing personal qualities that made his professional career practically inevitable: he was intensely curious about free-living wild creatures and he was extraordinarily sensitive to beauty in the out-of-doors."
In 2012, Peter and Frederick donated the 293-acre family farm to the U.S. Fish and Wildlife Service. The land borders Oakwood Lakes and is being restored to its former prairie grassland state, honoring Errington's life-long dedication to preserving the environment.