Charles Arthur "Chuck" Lundquist '49, a pioneer in space flight engineering, died June 3, 2017, in Huntsville, Alabama, where he lived. He was 89.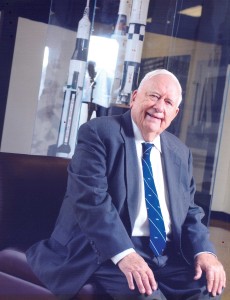 Lundquist earned a degree in engineering physics and entered graduate school in physics at the University of Kansas. He completed his doctorate in fall 1953 and became an assistant professor of engineering research at Penn State. However, in 1954 he was drafted because of U.S. involvement in the Korean War.
After basic training, Lundquist was assigned to the Guided Missile Development Division of Redstone Arsenal at Huntsville. Lundquist was immediately assigned to work on Project Orbiter, first under Walter Thiel, then under Ernst Stuhlinger, the No. 2 man for rocketry pioneer Wernher von Braun. Herman Oberth, another rocketry pioneer, was another colleague.
An article in the June 7 Huntsville Times described it "akin to a first-year pro joining a foursome of Tiger Woods, Phil Mickelson and Jack Nicklaus." Lundquist helped plan and launch Explorer I, the first U.S. satellite, from Cape Canaveral in 1958.
After completing a two-year tour in the U.S. Army, he remained in the same position. "I just changed clothes and got a raise," he stated in the Times article.
Lundquist eventually became chief of the physics and astrophysics branch of the Army Ballistic Missile Agency at Redstone Arsenal. When the Marshall Space Flight Center was founded in 1960, he transferred there and continued to work on satellites and space probes. In July 1962, Lundquist became assistant director for science at the Smithsonian Astrophysical Observatory in Cambridge, Massachusetts, but he continued his close association with NASA and contributed his expertise to the success of the Apollo missions. In 1973, Lundquist returned to Huntsville and became the director of the Space Sciences Laboratory at the Marshall Space Flight Center, making key contributions to Skylab and the first Space Shuttle flight.
In 1981, he retired from NASA and joined the University of Alabama at Huntsville. He was associate vice president for research and director of the interactive projects office when he retired in 2000.
Lundquist was born March 26, 1928, in Webster, where he had a chemistry lab in his garage and a set of Oxford reference books in his bedroom. In sixth grade, he wrote a report about nuclear fission, long before the phenomenon was used to construct the first atomic bombs. He graduated early (summer 1945) intending to join the military, but the armistice allowed him to enroll at SDSU with returning war vets.
SDSU honored him as a Distinguished Alum in 1975 and a Distinguished Engineer in 1984 as well as presenting him an honorary doctorate in 1979. 
Lundquist was preceded in death by his wife, Patricia, in 2004. Survivors include children Clara Perkins, Dawn (Robert) Lee, Eric Lundquist, Frances Lundquist and Gary Lundquist (Kathleen); a sister, Dorothy (David) Parker; two grandchildren and two great-grandchildren.