South Dakota State University has secured leadership investments exceeding $18 million by early August and formally launched a fundraising effort to build an indoor practice and human performance facility.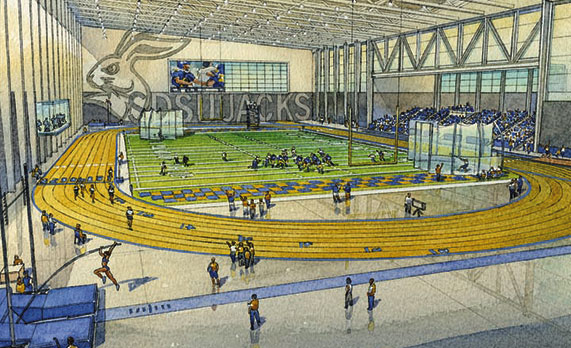 Sanford Health has agreed to provide $10 million, while another $8 million has been committed by anonymous donors. Teams of other former student-athletes have been created to actively raise money for the project, which is a centerpiece of the athletic department's master plan.
The overall project is estimated to cost $24 million to $28 million. Construction of the facility is planned to begin in the spring of 2013, subject to successfully raising the additional funds and final approval through the South Dakota Board of Regents.
That timeline hinges on SDSU's ability to secure the remaining financial commitments by this fall. "The leadership commitments we have received have moved us  significantly closer to our project goal," said Keith Mahlum, Vice President for Development for the SDSU Foundation. "But we have to finish the job in order for construction to begin in 2013. We look forward to discussing the investment opportunities associated with this transformational facility with our alumni and friends."
If construction begins in 2013, many of the current 450 student-athletes would have an opportunity to benefit from the facility before graduating.
Mahlum is part of a team spearheading the fundraising efforts. To learn more about this project visit: www.sdsudevelopingchampions.com.
The facility will be constructed north of Coughlin-Alumni Stadium, adjacent to the Dykhouse Student-Athlete Center. The facility will provide indoor practice space for intercollegiate athletic teams, state-of-the-art areas for sports medicine, and strength and conditioning facilities.
The planned facility would include an eight-lane, 300-meter track and 100 yards of synthetic turf, along with space for sports medicine, athletic training, strength and conditioning, physical therapy, hydrotherapy, observation rooms and office facilities.
Director of Athletics Justin Sell said the facility supports the athletic department's mission to develop lifelong champions.
"It is a game-changing opportunity to build a facility that will benefit the university for the next 50 years," Sell said. "The demands put on student-athletes today create the need for high-quality practice and support facilities that allow our student-athletes the opportunity to compete and excel at the highest levels. There is a tremendous need for this facility and we are pleased to be partnering with a leading health care provider like Sanford Health."
Sanford Health employs more than 25,000 people, including 1,600 SDSU graduates.