From 'Garbage Hill' to the Bummobile, Dirty Lil evolves
Dirty Lil, dressed in ragged hippie hobo wear, became a part of the Hobo Day tradition in 1976. Thirty-five years after Weary Wil came to life, a partner joined him for the Hobo Day hoopla.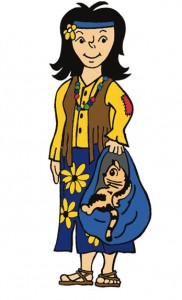 Each year the Hobo Day committee chooses an SDSU alumnus to play the role of Dirty Lil. She is selected from prominent female graduates and usually served on the Hobo Day committee. Dirty Lil, along with Weary Wil, must lead songs and dances, tell a few jokes and get the student body fired up for Hobo Day.
Dirty Lil's character was derived the summer before the 65th Hobo Day from a drinking song. The committee found the song about Dirty Lil in a book they sung out of at parties and gatherings, and thought she would add to the spirit of Hobo Day. The song went like this,
Dirty Lil, Dirty Lil,
Lives on top of Garbage Hill.
Never took a bath,
Never will.
(clear your throat and spit)
Dirty Lil
Before the conception of Dirty Lil, a different female character was the star of Hobo Day. According to Patty Fossum-Sinning, 1981's Dirty Lil, Semanthy Jane, a character from Chicago, flirt
ed with hobos in an effort to gain the right for women to vote. Semanthy Jane was part of SDSU's first Hobo Day, but was lost in history.
Barb Strandell '73, a former Students' Association president, served as State's first Dirty Lil while Jack Soukup was Weary Wil.
"I have fond memories of singing in Cavorts with Bill Stewart, who was Weary Wil with me," says  Fossum-Sinning '77, who served as the Hobo Day coordinator in 1976. "But my favorite part of the whole week was riding through the parade in the Bummobile. It's not something very many people get a chance to do."
Fossum-Sinning says it was an honor to play Dirty Lil and represent the SDSU alumni. "It was also really fun to interact with the faculty in disguise."
Another SDSU alum, Janelle Bischoff '75, played the part of Dirty Lil in 2002. Her daughter Abby was grand pooba that year and asked her mother if she would play the infamous character.
Dave Eiesland '74 was Weary Wil with Bischoff that year. "We did an impromptu skit at Cavorts," says Bischoff. "We just got up on stage and gave a short rendition of the national hobo contest – hobo stew tasting and digging in the garbage can."
Bischoff remembers her and Wil's Hobo Day attire fondly. The duo dressed incognito equipped with gray wigs, glasses and fake noses. "I was wearing ragged jeans and a camouflaged hunting vest, great hobo style," Bischoff says. "We weren't letting anybody guess who we were."
Bischoff recalls her and Weary Wil checking out the bar scene in Brookings during Hobo Week. "During karaoke, we sang, "Far across the plains of Brookings" and "Matches, Matches."
A sculpture of Dirty Lil will join Weary Wil on the north side of the University Student Union for Hobo Day 2013. The sculpture is supported by the Robert and Anita Quast Lawe Foundation, and facial features on Dirty Lil will portray those of Anita Quast Lawe '40, State's 1938 homecoming queen.
Dirty Lil may have come along later than Weary Wil, but she's just as important for raising student spirits during Hobo Week. Both roles are unique experiences for alums that want to return to campus to experience homecoming week. There's plenty of work, but it's fun, too.
"The experience was wonderful," says Bischoff. "It was a hoot."
Karissa Kuhle