President David Chicoine did not take the typical route to become the university's chief executive.
David Chicoine '69, the 19th president of South Dakota State and the third alumnus to serve as president, did not follow the typical path to become a university
president. While he was a tenured full professor, a department head and a dean at the University of Illinois at Urbana-Champaign (Illinois' 1862 land-grant university) and the University of Illinois system's first vice president for technology and economic development, Chicoine never was a provost and chief academic officer, the position from which candidates for university presidents are typically and most often drawn.
"My job as vice president was primarily as a senior university officer," he recalled. "I did oversee two technology commercialization offices at Urbana-Champaign and Chicago, and I started and was the operating officer for two university-owned limited liability corporations to develop research parks and to provide early-stage capital and support to startups commercializing research-derived new technologies." System vice presidents work with the three University of Illinois institutions in Chicago, in Springfield and in Urbana-Champaign, which have a total enrollment of more than 75,000 students.
A conversation with University of South Dakota President Jim Abbott got Chicoine thinking about his future. Abbott and his wife, Colette, were at Chicoines' Champaign home in October 2004 before the funeral of Orville Bentley '42, who served as dean of agriculture at South Dakota State and at the University of Illinois at Urbana-Champaign. Bentley and his wife, Nolie, had befriended the Chicoines.
"While we hadn't met prior to attending a dinner hosted by David and Marcia at their home the night before Orville's funeral, I was well aware of David's excellent reputation and our brief meeting confirmed all the good things I had heard," Abbott said. "I told David, that in my experience, there are few things better than being president of one's alma mater and offered to nominate him, if the chance arose. Just two years later, I quickly learned that I was only one of many who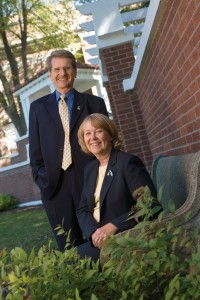 thought he would make a great SDSU president."
Jeff Muchow '68, then an officer of the SDSU Foundation, concurred with Abbott and discussed returning to South Dakota State with Chicoine over lunch at Chicago's University Club.
"It was something we decided we really wanted to try," Marcia said.
"Our conversation was … 'if we're going to spend the next seven or eight years in an intensive round-the-calendar position, where could we have the most impact: The University of Illinois or returning to SDSU?' It was fun to come back home," David said. "I do remember being often asked 'Why are you going there?' My response was, 'It is South Dakota, our home state, and South Dakota State, our alma mater. It is going back home.'"
The journey to Illinois was part of several stops for the couple, who met on a blind date as sophomores. The date was set up by their roommates, who were dating at the time.
"Also, we were in sophomore English literature that fall. That's where we got to know each other. I never skipped English lit," he said.
It's a journey that took them from Brookings to graduate school at the University of Delaware, a job with Illinois Extension at Macomb, home of Western Illinois University, where he completed a second master's, and then graduate school in Urbana-Champaign for a doctorate degree and opportunities at the University of Illinois, and then back to Brookings—a full circle.
"We don't have any regrets whatsoever," Marcia '71 said. "It has been such an honor and really great, great fun. I have met so many interesting and amazing people on campus, in Brookings, around the state. We have nieces and a nephew on campus but we don't get to see them often. They are busy being students."
Getting to know students, through the SDSU Ambassadors, the First Lady's Literary Circle, the Hobo Day Committee, etc., has been especially gratifying, she added.
Chicoine's tenure as president includes accomplishments that range from strategic planning, strengthening academic programs, developing new degree programs, growth in research capabilities and expenditures, transformation of the main campus in Brookings, notable success in NCAA Division I athletics, and completion of the largest fund-raising campaign for education in South Dakota history.
IMPACT 2018, implemented in 2013 after a 14-month collaborative process, is a 5-year strategic plan to shape the direction of the university as a comprehensive teaching and research public institution of higher education. A key indicator of the plan is the number of nationally accredited programs—a mark of academic excellence. Targeted to reach 42 by the conclusion of IMPACT 2018, program accreditation increased the first two years of the plan from 32 to 37, while 20 programs are seeking first-time accreditation.
South Dakota State also has enjoyed tremendous growth in research activity under Chicoine's leadership. Total research expenditures increased by about $30 million annually and intellectual property disclosures grew from less than 10 in 2007 to an average of 46 in the last five years.
With university leadership, Chicoine spearheaded the development of a residential life and dining services master plan, an athletic facilities master plan, and the 2025 Design and Master Plan that resulted in seven new residence halls, allowing for expansion of living-learning communities across campus. A new Architecture, Mathematics and Engineering Building, the Avera Health and Science Center, Daktronics Engineering Hall, Sanford-Jackrabbit Athletic Complex, a comprehensive classroom enhancement project, and improvements to the Alfred Dairy Science Hall and Davis Dairy Plant mark some of the physical transformation under Chicoine's tenure. In addition, the Dana J. Dykhouse Stadium is set to open for the 2016 football season. Altogether, more than $400 million in capital projects have been implemented.
Chicoine was a champion in the record-setting $255 million comprehensive fundraising campaign, "It Starts with State: A Campaign for South Dakota State University." The campaign eclipsed its $200 million goal, raising money to strengthen student opportunities, faculty, athletics, 15 new capital projects and other university programs.
Athletic success has flourished in the past several years as well. Jackrabbit student-athletes have posted a cumulative GPA above 3.0 each year since the university completed its transition to full NCAA Division I membership in 2008. During that time, 18 teams have qualified for NCAA national competitions, led by six tournament appearances in women's basketball.
Outside of planned time with their son, Josh, his wife and children in Chicago, what's next for the couple?
"I will apply for a sabbatical for fall 2016 if the next president is on board," David said. "The sabbatical will be an opportunity to think through and develop a plan for being a professor in the Department of Economics."
A sabbatical will be something new for the Chicoines, who had one lined up for 1987-1988 at the University of Reading in the UK. Those plans were derailed as David was named department head and their oldest son, Jason, was a freshman in college. That was also when Marcia, who had already earned a master's degree, was finishing coursework on a doctorate in education policy.
"I had done all of my coursework with my dissertation yet to do. Then David became department head, our oldest son was a freshman at Oberlin College in Ohio and our other son was a freshman in high school. I thought I was going to miss all of that so I took a different direction and accepted a position on campus at the interdisciplinary Center for Advanced Study," she said.
Later, she worked as a computer specialist for the Champaign school district and then with the Internal Medicine Residency Program at the University of Illinois College of Medicine at Urbana-Champaign, housed at Carle Foundation Hospital in Urbana.
"That was probably my most fun job," she said. "I started teaching new residents how to use computers. That evolved into developing a website, working on curriculum, managing accreditation and the budget and overseeing the national process that matched newly graduated medical students as residents to our program. I decided I would have loved to have been a doctor but it wasn't the right time."
But it is the right time for the Chicoines to step away from the State presidency and into the next phase of their lives.
Matt Schmidt