South Dakota State University faculty member Leda Cempellin has been selected to serve a three-year term on the College Art Association's museum committee. Cempellin started her term at the association's annual conference Feb. 15-18 in New York.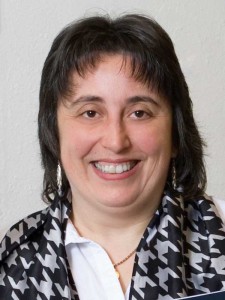 Representing its members' professional needs since 1911, CAA is committed to the highest professional and ethical standards of scholarship, creativity, criticism and teaching.
Cempellin, an associate professor of art history in SDSU's School of Design, was on the CAA's education committee from 2013-2016.
"I look forward to serving CAA again in this new role," Cempellin said. "It will be a fabulous opportunity to network, share information and shape guidelines nationally. I applied to be on the museum committee thinking of the visibility of our museum studies minor program and my role as coordinator.
"In serving your profession, you are given valuable opportunities to grow, to contribute your skills for the common good and to learn. It is a privilege," she continued. "I enjoy the opportunity to gain a wider perspective on similarities and differences, the potential envisioned and enacted elsewhere, and the challenges experienced within the same profession in other contexts. Most importantly, I enjoy the synergy that such diversity provides and the consequent positive outcomes and impact."
In her role on the education committee, Cempellin helped organize and chair panels at the 2015 and 2016 annual conferences, as well as a brownbag session on the teaching portfolio. One session evolved into a co-edited group manuscript for the upcoming inaugural issue of AHPP, the first peer-reviewed journal of scholarship of teaching and learning in art history.
"At SDSU, we have a unique program, a beautiful complexity and great potential," Cempellin said. "At CAA, I will benefit tremendously from meeting and working with a diverse range of faculty and professionals working in a variety of structures within the museum field.
The leadership, collaboration and organizational skills I will learn and hone at CAA will be easily transferrable to my roles in SDSU committees, programs and classrooms."