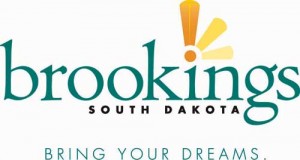 The city's new brand encourages people to bring their dreams—whether as big as a children's museum or as small as an ice cream shop—to Brookings. The new logo shows the word Brookings in lowercase, with the letter "I" dotted by three exclamation points and underscored by the words "bring your dreams."
Former slogans have included "Someplace Special," "I am Brookings," "Imagine life in Brookings," and "Forward. Thinking." The current brand, released in May 2010, was designed by the Nashville firm North Star Destination Strategies.
The new brand, officials say, is meant to convey a friendly, inviting community where ideas flourish and dreams come true.
"The brand is about a vigorous exchange of ideas, small and large," says Victoria Blatchford, chair of the Visitors Promotions Committee and a member of the branding task force. "Any size dream can become a reality, whether you're a business owner, an elementary student, or a college student."