Lone Feather first Lakota to serve in Congress
As history would prove, it was quite fitting that Ben Reifel's Indian name was Lone Feather.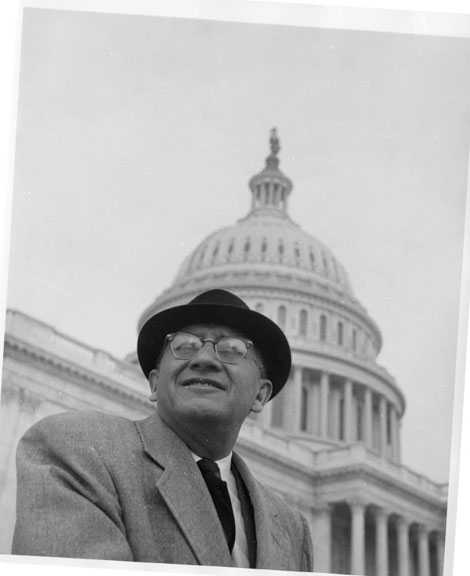 That's because Reifel, born in a log cabin near Parmelee on the Rosebud Indian Reservation in 1906, was the first Lakota to ever serve in the U.S. House of Representatives. In fact, during the 1960s he was the lone American Indian in Congress.
Reifel, who died of cancer in 1990, graduated from SDSU with a degree in agriculture 80 years ago. His first job was as an adviser for boys at Hare's School in Mission.
In 1933, he joined the Bureau of Indian Affairs as a farm agent on the Pine Ridge Indian Reservation. A year later, he was promoted to field agent at the regional headquarters in Pierre. He retired from the bureau in 1960 while serving as the area administrator in Aberdeen.
Reifel was awarded a midcareer fellowship to study public administration at Harvard, where he earned both his master's degree (1949) and doctorate (1952).
Having been commissioned a second lieutenant through State's ROTC program, the Army ordered him to active duty in 1942 during World War II. He served until 1946, reaching the rank of lieutenant colonel.
Following his career with the Bureau of Indian Affairs, Reifel ran for Congress and was easily elected to five terms. When his fifth term was coming to a close, and reaching the age of 65, he chose not to run in 1970.
While Native Americans in the state were largely registered with the Democratic Party, Reifel was a Republican. He did so, he would say, because President Calvin Coolidge supported a congressional amendment giving Native Americans the right to vote.
In Congress, Reifel held several committee assignments. During his first term, he was appointed to the agricultural committee, and in his second term, was named to the appropriations committee. He served as the ranking Republican on the appropriations subcommittee on Interior Department Affairs.
According to those who knew him, he worked hard for farming interests in South Dakota, opposing cuts in farm support programs, and pushing for the Oahe Dam to supply water for irrigation. During all this time, he constantly worked vigorously for American Indian education.
Remaining in the public eye after leaving Congress, President Nixon appointed Reifel chairman of the National Capital Planning Commission in 1971 with the job of overseeing federal projects in the Washington, D.C., area. He then served as special assistant for Indian programs in the Department of the Interior. During the last two months of President Ford's administration, he was interim commissioner of Indian Affairs.
In 1977, Reifel became a trustee of the South Dakota Art Museum and was board president from 1982 to 1983. He established the first Native American collection at the museum in 1977, donating most of his personal collection.
Kyle Johnson