The historical hallmarks of a land-grant university have been teaching, research and outreach. The Association of Public and Land-grant Universities (APLU) in the past two years has taken a new look at the characteristics of universities, both traditional elements and emerging attributes, and how those qualities shape and define regional economic development.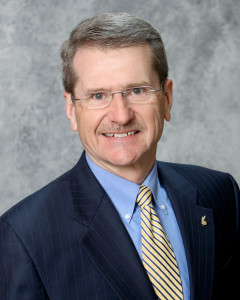 The APLU in July named South Dakota State University and 13 other members as Innovation and Economic Prosperity (IEP) Universities. Approximately 30 universities applied. The designation, according to the APLU news release, acknowledges collaborative work with public and private sector partners to bolster economic development through innovation and entrepreneurship, technology transfer, talent and workforce development, and community development.
We're in great company. This year's class of 14 includes several strong land-grant and flagship universities—Georgia Tech, Illinois, Indiana, North Carolina State, Penn State, Purdue, Texas Tech and Virginia Tech. The process included input from internal groups and external stakeholders, a self-study component, a workshop and an extensive written report that was reviewed by an independent panel.
This designation—and the value of relationships with public agencies and private partners—fits the land-grant mission and connects with the university's IMPACT 2018 strategic plan goal of driving economic growth from the commercialization of research-derived innovation and new technologies. Specifically, it recognizes the impact that South Dakota State has on the economic growth and development of the state and region and the promise investments in our university have to continue to improve the economy of the state and region. Further, the IEP designation validates the value of the collaborative work across the university and with partners and the very positive effect this work has, and will continue to have, on state and regional economies.
Our IEP application touched on several new achievements and time-tested relationships.
Faculty continue to compete successfully for research grants. The pathway from grant-funded research results to commercialization is now well-defined and very clear. South Dakota State's Technology Transfer Office (TTO), established in 2008, efficiently manages this pathway, supporting the effective commercialization of faculty inventions, starting with disclosure. TTO staff have processed an average of 49 disclosures annually over the past five years. Currently, 17 technologies with significant commercial potential are available for licensing.
In 2009 a group of investors, led by McGowan Capital, formed South Dakota Innovation Partners (SDIP) to launch and to provide early-stage funding and business management expertise to technology-based startups, shepherding them through the "valley of death." SDIP is working with six promising young companies, bringing to market, under a license with the university, new research-derived technologies discovered by SDSU faculty. The Research Park at South Dakota State University, a shared effort with the city and county governments in Brookings, has attracted businesses with space conveniently located near the university. Investor-owned Brookings BioSpace provides lab and office space for emerging bioscience companies. The Technology Center for Rural Enterprise, developed by the Brookings Economic Development Corporation, is a pilot-plant scale-up facility dedicated to supporting the success of startup ventures.
The successes connected to the university are good stories. The Davis Dairy Plant, opened in 2011, and the university's Department of Dairy Science were the difference-makers in the successful recruitment of Bel Brands USA to Brookings. The international company's marquee plant on the east side of Interstate 29 started producing cheese in July. The first Porcine Reproductive and Respiratory Syndrome Virus (PRRSV) vaccine, developed nearly 20 years ago, still serves the swine industry, even as researchers modify it to combat new strains. Daktronics, a world leader in electronic displays, continues its growth with more than 400 alumni and students in its workforce.
APLU reviewers found plenty of reasons to classify South Dakota State as an IEP university, a somewhat exclusive club comprised of 29 primarily larger universities. The reviewers recognized the level of engagement of faculty, staff and students to create a more prosperous future.
Those who are interested in reading the report can find it on the university website at http://www.sdstate.edu/news/articles/upload/APLU-CICEP-Designation-Submission-South-Dakota-State-University.pdf .
David L. Chicoine, Ph.D.
President