Playing only six games would not be acceptable to any member of the current South Dakota State University women's basketball team. However, when the program was officially added as an intercollegiate sport in fall 1966, the team played only six games. That initial team went 6-0, setting the stage for what still is a high level of success for the sport. In addition to basketball, volleyball, track and field and field hockey were added to the roster of Jackrabbits athletics that fall. SDSU currently fields 11 women's teams and is celebrating its 50th anniversary this academic year.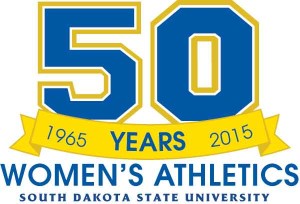 "It was pretty bare bones to start. South Dakota State was the leader because they had women in the department who felt the right thing to do was give women an opportunity to compete in athletics," said Nancy Neiber, who was the women's basketball coach from 1984 to 2000 and then spent seven years in athletic administration. "I think celebrating the 50th anniversary was a marvelous idea, just marvelous. It takes so many people to put something like this together. There are many people who are helping this event take place and more importantly, doing it the right way.
"South Dakota State is trying to uncover every stone to make sure no one will be missed. There weren't a lot of records kept during that time. If there were, they've been discarded," continued Neiber. "A lot of the women who were here 50 years ago, even 40 years ago, wore the same uniforms and traveled in station wagons. Title IX was nowhere to be found at that time."
Neiber, who wasn't able to play sports in high school or college, used to remind her teams of the opportunities they had.
"I used to stop practice every once in a while if we weren't intense enough or focused enough," she said. "I would just stop it and tell them how lucky they are to have the opportunity to play and remind them what Title IX was. This was really an opportunity and they should make the most of it because it goes by so quickly, so so quickly. You never want to look back and say I wish I could have done a little bit more."
When she started at State, Neiber taught five classes and swept the floor before every practice.
"It was almost overwhelming. It was just a blur," she said. "I'm sure I've forgotten a few things I had to do then, too."
Similar to Neiber's early days at State, Jean Holzkamp '74 was busy, too. Holzkamp was a member of the field hockey, volleyball, basketball, softball and track and field teams all while earning her bachelor's degree in physical education in four years.
"And I probably could have been on the golf and tennis teams if I had time for them," said Holzkamp, breaking into a laugh. "It was so different back then. You didn't specialize, you just participated in as much as you could season after season. Spring was hard as softball might have been my best sport but I also competed when I could in track and field, too.
"I just wanted to be involved in as many sports as I could," continued Holzkamp, who participated in track and field at Brookings High School and played softball in the summer. "Not really having the opportunity in high school to try a number of sports, being able to participate in college was a thrill. I just liked being part of a team."
One of those experiences was flying to the 1972 AIAW national tournament in Springfield, Illinois.
"I had never flown commercially before then," said Holzkamp, who retired from teaching at Kadoka last year. "And just the fact of going to a national tournament, something we never thought about it until we qualified, was just a thrill. We traveled by vans to our games and then get to fly to an event. … It was great.
"We started in the Barn and then moved to the HPER center (Frost Arena) when it opened," she continued. "It had a pool, the big arena floor, an indoor track … the facilities alone were fantastic and when you combine that with the tons and tons of memories, it was a great time."
Also recalling fond memories of her athletic experience at State was JoElle Byre Benson '86, who played basketball for Neiber and Mary Ingram.
"All scholarship athletes had to work a board job, which wasn't ideal but, at the end of the day, worked out because you met all the
other athletes," she said. "I will never forget when Tara Tessier Lansman and I were in trouble for not mopping correctly," she continued, breaking into a laugh. "We didn't know. Thankfully, coach Neiber came over and rescued us."
"It was a wonderful opportunity as a student-athlete," continued Benson, who taught and coached at Washington High School and is now self-employed. "The changes that have taken place, I could have never imagined. The move to Division I turned out to be wonderful."
Matt Schmidt
50 Years of Women's Athletics Events
Nov. 12 Harding Distinguished Lecture with Chris Voelz, 7 p.m., Performing Arts Center; Nov. 13 50 Years of Women's Athletics Welcome Reception, 11:30 a.m., McCrory Gardens; Nov. 13 Volleyball vs. North Dakota State, 2 p.m., Frost Arena; Nov. 13 Basketball vs. Marist (N.Y.), 6 p.m., Frost Arena [halftime recognition of Top 50]; Nov. 14 Volleyball vs. Western Illinois, 7 p.m., Frost Arena