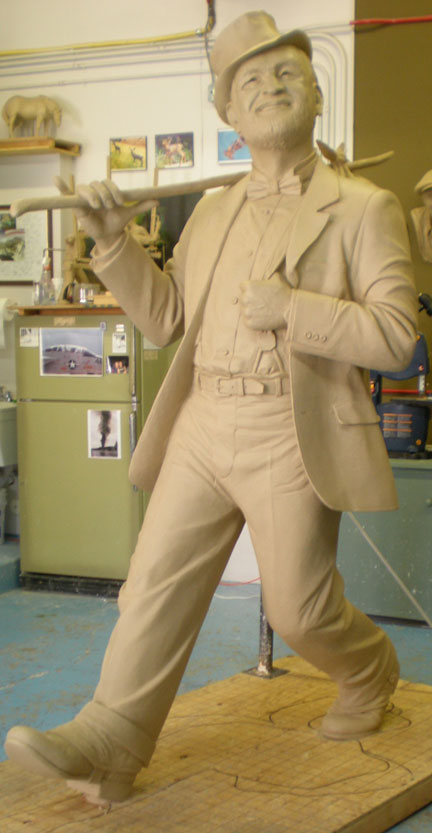 The developing campus green from Medary Avenue east past the new Diary Bar and on to the Stan Marshall HPER Center, once a graveled road past the Dairy Barn where the H. M. Briggs Library stands, will soon have its special paragon much like the Campanile eye-stopper on the north-south campus green.
An eight-and-a-half ­foot bronze Weary Willie sculpture and his sculptured dog done by Dave Anderson of Loveland, Colorado, will be sited north of the University Student Union's Hobo Day Gallery. The bronze will be unveiled at ceremonies Friday afternoon, November 4, the day before Hobo Day.
The 1,000-pound Weary Willie will arrive in Brookings on a flatbed. He'll have company. Riding along will be the "Prairie Is My Garden" bronze by noted sculptor and Armour native Dee Clements, also of Loveland. That statue is headed for the new building at McCrory Gardens.
When you see the Weary Willie likeness, look closely. He's wearing spats, and a pinch of a Rolex wristwatch you'll have to search for.
In 1941, student Keith Cox created Weary Willie as a wall painting in the then-new Pugsley Student Union. Willie's image soon adorned campus letterheads, ties, sweatshirts, headscarves, and college welcome signs.
In June 1950, creative students brought Willie to life.
They chose Collegian editor Walt Conahan, a popular student and well-known campus raconteur, as the first real, live Weary Willie.
Conahan was then and he remains today an exuberant, jolly, and jaunty Irishman with an infectious smile and a catching Irish chortle.
In June 1950, Conahan secretly left Brookings aboard the inaugural Western Airlines flight in South Dakota headed for Huron. There he donned clothing he felt Weary Willie would want to wear. On Western's return trip Conahan, in full regalia, reboarded and took a seat among startled passengers.
Hobo Day committee planners coordinated Willie's arrival at the Brookings Airport. He deplaned, hamming it up to the cheering crowd of 500 students and President Fred Leinback.
A new Hobo Day tradition was born that day sixty-two years ago.
Anderson's sculpture is based on later Hobo Day Weary Willie David Blegen '64, but the sculpture appears to also almost exactly mirror Conahan's ebullient personality.
A Leola native, Conahan now lives in Sioux Falls. He was a Congressional aide to Rep. Jim Abdnor in Washington, D.C., and in the 1970s returned to his alma mater as director of development until retirement.
He not only was the first Weary Willie in 1950, he's the only Jackrabbit alum to be called into Weary Wil service twice, returning to the campus again in 1954.
Conahan is also believed to also be the first and only Weary Willie to serve three terms in the South Dakota Senate.
Incidentally, in 1950, SDSU played the University of North Dakota on Hobo Day while Conahan and other hoboes and hoboettes cavorted wildly. The Jackrabbits went 9-0-1 that year, the tie being that 21-21 Hobo Day game.
In it, the Jacks missed an extra point kick, but there was a UND penalty. The rekick was good and knotted the score 21-all.
Perhaps even then the magic of Weary Wil was at work.