One of the unheralded perks of working at SDSU is having a beautiful campus to stroll through at break time.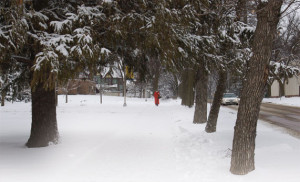 Ruby Wilson, who works as a Daschle project associate in the SDSU Archives at the Hilton M. Briggs Library, was so struck by the beauty of the campus and so intrigued by the snatches of conversation she heard while on her walks that she turned them into a book — "Campus Sketches: Images of South Dakota State University in Word and Photograph."
Break time walks are common for Wilson's co-workers at Briggs. While assigned to work at Lincoln Music Hall, Wilson found herself on her own at break time.
Ideas for poems would come to her on the walks and "I scribbled the notes down." The beauty she saw on campus inspired her to bring her camera and soon her Nikon was a constant companion on her walks.
Wilson used the photos of campus as a screensaver on her computer. One day in March, as the photos were scrolling past, it occurred to her that pairing them with her poems would make a book.
"Campus Sketches" was published just before Hobo Day. The softcover book can be purchased for $16.95 at the South Dakota Art Museum and the South Dakota Agricultural Heritage Museum on campus.
A portion of the proceeds from the sale of each book goes to the Harvey Dunn Grassland Preservation Project.