Most of us are used to grocery stores filled with aisle after aisle of healthy and not-so-healthy food choices.
So it may come as a surprise that "food deserts" — communities located more than 10 miles from a supermarket or other source of fresh, healthy and affordable food — exist in the United States. That's also the case in more than half of South Dakota's counties.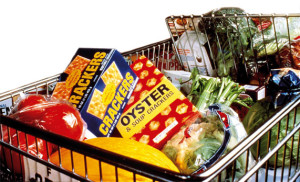 Voices for Food, is a six-state, federally funded research project that will seek community-based strategies to increase the availability of and access to nutritious food in isolated communities.
"Millions of American households lack the resources to access sufficient food, and many of those, including our children, may go hungry at least once this year," said Agriculture Deputy Secretary Kathleen Merrigan, who announced the $4 million, five-year grant at an SDSU press conference Feb. 27.
Proposal called 'best of crop'
The $4 million Voices for Food grant is packaged with $75 million in research grants and outreach activities that were awarded to 21 universities.
"I could go anywhere in the countryside to make our announcement," but Merrigan said she came to South Dakota because of the importance of the research that the grant will fund.
In explaining the reason for funding the SDSU-led proposal, Merrigan said,  "(It's selection) was because it was the best of the crop, the cream of the crop, it was competitive. This is something the university should be celebrating, top-notch work."
The project funding will be divided among university researchers at Michigan State, Purdue, Nebraska, Missouri and Ohio State, with SDSU as the lead institution. Suzanne Stluka, Food and Families Program director with SDSU Extension, took the lead and is principal investigator.
A majority of the specialists working with Voices for Food are SDSU Extension employees, Stluka says.
The focus of the grant is to develop and implement sustainable solutions that will offer healthy food choices in these communities. Food policy councils will be formed and play a key role to "identify solutions so everyone can have access to affordable and nutritious food," Barry Dunn, dean of the College of Agriculture and Biological Sciences, said at the press conference.
Researchers at each university will select two communities in their states this fall and begin work with them in January 2014.
Stluka says the results of the process will be collected in a "tool kit" that can be used in other rural communities once the grant project is complete.
Four years to work with communities
Stluka says the goal in 2014 will be to establish the food policy councils, whose purpose is to increase healthy food access to their communities.
"We're trying to bring key people to the table," including farmers, school administrators, business owners and tribal members, she explains.
Years three and four (2015-16) will focus on helping food policy councils advance their initiatives.
The final year will focus on implementing a withdrawal strategy. "Our whole idea is that they will be sustainable," Stluka says. Each state will have a project coordinator and SDSU Extension will locate that position in Mitchell.
SDSU Extension wants to have the resources of a community food policy field specialist available long term, and this grant will provide a jump-start toward that, Stluka says.
Aiming at a bigger target
What makes Voices for Food unique is the rural food policy councils, a new concept in the nation, according to Stluka.
"We're doing more than educating the individual. Our goal is to work with the residents of rural communities to understand what they see as opportunities to increase food access. If you want to make a bigger impact, you've got to work with the community. This will open the door for us to work in a bigger area," says Stluka, a 2004 SDSU graduate.
She says the success of the program will be measured throughout. Consumer response will be paramount.
Asked if the $4 million would be better spent simply buying healthy food for people in isolated communities, Stluka says, "There have been nutritional assistance programs in the United States that have done that for many years and that continues to be important.
"But we're here to transition people beyond that, beyond just giving them food."
Career spent in food access
During Stluka's seven-year career with SDSU Extension, her work has been in food access. "I conduct this work almost every day in almost everything I do. I am passionate about it," she says.
Writing the proposal was a five-month project that culminated in a summer 2012 approval by USDA.
Due in part to budget wrangling in Washington, D.C., it was six months before the public announcement was made. When the grant was announced, USDA and the university made the most of the opportunity.
Dave Graves