After several moves, South Dakota State University's Veterans Affairs Resource Center is now in Brown Hall. The VARC had recently been located in various areas of the University Student Union.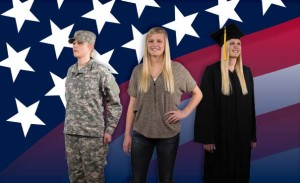 The move was assisted by a $10,000 grant from The Home Depot and Student Veterans of America. The grant was part of the Vet Center Initiative, which started in 2014. South Dakota State was one of 50 campus communities chosen in 2016.
"This center is just part of what we are doing for our students who are service members and their dependents," said Russ Chavez, SDSU's director for Veterans Affairs, noting veterans have 24/7 access to the center, which has a study area. "The VARC gives our students a place that provides them many resources to be successful as well as a gathering place."
In addition to the new center, the Veterans Affairs Office also moved to Brown Hall. It had been in Spencer Hall.
"It has been great having the Veterans Resource Center and the Veterans Affairs Office consolidated into one location," said David Flanery, president of SDSU's Armed Forces Association. "The feedback from the students has been very positive overall, and the change in location has not caused any decrease in student usage. The students I have talked to pretty unanimously agree that the short walk from the University Student Union is worth the added privacy and much quieter atmosphere.
"The best part about the VARC is that it is a place on campus for veterans, service members and dependents to call their own," continued Flanery, a senior from Britton majoring in wildlife and fisheries sciences. "It is a great place to study, use the computers, watch TV or just hang out. It gives these unique students a place to do all of these things with other people who, for the most part, understand what one another have done and have been through. The VARC allows for camaraderie that many people miss once they leave the service and also has many other resources available to help students be successful."
Chavez said the new center is part of the commitment that has seen SDSU rank eighth among four-year schools by Military Times in its Best for Vets: Colleges 2017 rankings.
"I'd like to see us stay in the top 10 rankings by Military Times," Chavez said. "I think this new facility and the annual renewable scholarship (see story Michael Goodale Scholarship) recently started by the (Gene and JoAnn) Goodales will help. I'm looking for more ways to get scholarships for our veterans here and hope to become even more involved in community activities."
Flanery agreed there is a demand for more scholarships.
"It would be great to see more scholarships for military-affiliated students, and we have been making progress toward that goal with the addition of the annual Michael Goodale Scholarship in Veterans Affairs," Flanery said. "In addition, I would love to see the VARC continue to grow in daily usage as it has over the past few years. As the military-affiliated population on campus continues to grow, so does the number of students who walk through our door on a daily basis. Also, while membership in our SDSU Armed Forces Association has grown by over four times what it was in the 2014-2015 academic year, I'd still like to see it increase. These are three important, and quite realistic goals that we have, among many others."
To help reach some of the goals, Veterans Affairs has added several new activities to go with its writing workshops. Warrior Week will feature a movie night, a speaker's panel and Michael Goodale will have a campus presentation. In addition, Horses for Heroes, which teaches grooming, tacking, feeding and riding, started in the fall semester. The NAPA Military Family of the Game will be announced at every home SDSU football game.
Matt Schmidt