For nearly 35 years, one person has had a role in many newsworthy events in South Dakota. Whether it was covering an event or serving as a press secretary or director of communications, Janelle Krause Toman '79 has been on the scene.
A journalism camp at State was the impetus for Toman's start in that field.
"Until then I had thought I might like to be a speech pathologist or an engineer," said Toman. "I think I'm naturally a curious person, and I like to write, so journalism is a pretty good fit."
The fit has been a good one as she now serves as the director of communications for the South Dakota Board of Regents and was recently given additional duties as the Capital University Center's executive director.
Before taking the position with the SDBoR, she worked for the state's department of education and served as the press secretary for both Gov. George S. Mickelson and Gov. Walter D. Miller. Toman got her start in the journalism field by serving as a reporter and editor for the Collegian and later worked at the Mitchell Daily Republic and United Press International.
Likes public service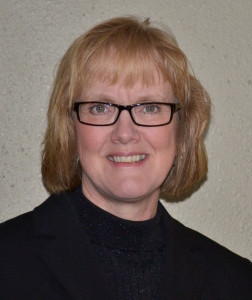 Toman, who has always enjoyed public service and interacting with other agencies of state government, has been working for the state since 1988.
"As a state employee, I had worked on several special projects with Gov. Mickelson's press secretary over the years. When his press secretary left to pursue other opportunities, the governor called me and asked if I would like to come work for him," she said. "I was more than a little surprised, but thrilled. I started working in the governor's office at the same time the legislative session was getting underway, so it was a short learning curve and very hectic, but exciting too.
"The press secretary role was a very special opportunity for me. Unfortunately, it was the best of times, and the worst of times. I so enjoyed working for both Gov. Mickelson and his lieutenant governor, Walter D. Miller. But nothing could have been more horrific than the airplane crash in 1993 that took Gov. Mickelson's life and that of seven other South Dakotans on an economic development mission," she said. "It was a tough assignment in those days after the accident, but I learned just how caring and compassionate South Dakotans can be."
Toman threw herself into her work shortly after the tragedy.
"Immediately after the accident, there was so much to do," she said. "Everyone in the Governor's Office and across state government pitched in to handle details. In the first few days, there were a lot of media briefings to conduct; no state had ever experienced this kind of tragedy, so there wasn't a 'script,' so to speak, to work from. We also needed to inaugurate a new governor, plan the memorial service for Gov. Mickelson at the Capitol, and work closely with the other families who were planning tributes for their loved ones."
As press secretary, she went to the White House when Mickelson met with individuals engaged in the early stages of health-care reform; Panama as part of a group to meet on-duty South Dakota National Guard soldiers and to New York to meet with the New York Times' editorial staff. She also had to prepare for Miller's wedding when he became the first-ever South Dakota governor to marry in office in July 1993.
"The press secretary job is like no other," said Toman. "I loved the variety and the opportunity to see policy being shaped at the highest levels. But there's also plenty of detail and bureaucratic processes to manage, and that doesn't make for good TV or movie scripts."
Start at State
When pursuing journalism at State, she covered the Board of Regents' meetings among other items.
"SDSU was a great training ground for me, and especially helpful was my early reporting work for the SDSU Collegian," Toman said. "I was the Collegian reporter who usually covered the Students' Association meetings, the Faculty Senate and interviewed the president, who, at that time, was Sherwood O. Berg. I even attended Board of Regents' meetings to report on actions that impacted SDSU students. It was great public affairs reporting experience and certainly prepared me for my later work as a reporter and in state government.
"I often recall covering the regents' meetings as a student, and now here I am working for the Board of Regents. I am not sure I would have anticipated that exact career path," she continued. "It is great to see how the current Board of Regents has come to include students much more directly in its policy work. Students are always involved and at the table for those discussions."
Technology has changed duties
Toman has not only seen the impact technology has made in changing how she does her job, but also how it has impacted education.
"As director of communications, I have seen, over time, the impact of technology and social media in how we interact with the news media and the general public," she said. "Now that I am also working as executive director at Capital University Center, the off-campus higher education center in Pierre, I am much more involved in the direct delivery of education programs and services to students. The advent of online courses and online degree delivery has certainly changed how higher education works with students."
In some cases, technology has made Toman's job easier. However, in some ways, it has created new avenues for news and information distribution as well as requests.
"My work for the Board of Regents is geared to information sharing and advocacy. I say that but note there is rarely an average day in higher education. I prepare news releases, guest editorials, arrange for editorial board visits and answer a lot of questions," Toman said. "We also get inquiries from the general public, from legislators and from other states' higher education systems, so that sometimes involves researching or tracking down information.
"All of my professional life has been spent in communications work of one kind or another, so I do like research, digging into an issue or topic, finding answers to questions and providing that information to others," she continued.
She gets additional duties when the South Dakota Legislature is in session.
"I spend much of my time at the Capitol monitoring bills, organizing our staff to testify on bills, and getting information to legislators so they can make the most informed decisions on our behalf," Toman said.
While her career path did not quite follow the plans she had when at State, Toman has made the most of those stops.
"To a future student: the education you receive, the relationships you establish and the connections you make at SDSU will all serve you very well," she said. "I have really enjoyed public service work, and I would certainly encourage SDSU students to consider an internship in state government. It gives you the opportunity to explore a lot of very interesting career paths."
Matt Schmidt