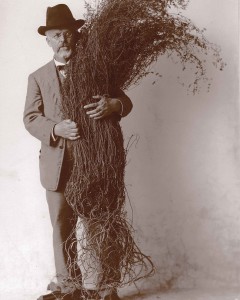 While better known for world-renowned abilities in horticulture, N.E. Hansen is also credited with writing the lyrics for "To the Colors," which is better known by its subtitle "The Yellow and Blue." In addition to Hansen's development of various varieties of fruits, grains and grasses, he wrote poems and loved music.
The song served as the school's fight song until 1959 and is now regarded as the university's Alma Mater.
We come from the Sioux and Missouri,
The Cheyenne and the Jim,
From pine clad peaks of the Black Hills,
Brimful of vigor and vim,
We sing the song of the prairie,
The home of the Yellow and Blue.
The gleaming gold of the corn field,
The flax of azure hue.
Oh SDSU hurrah for the Yellow and Blue;
Old SDSU all honor and glory to you;
Forever raise the song in praise both loud and long
With loyal hearts so true (so true).