The quest to find the perfect chocolate chip cookie recipe developed into so much more for Allie Sydow '09. Sydow, who earned a bachelor's degree in graphic design, now creates and designs cakes.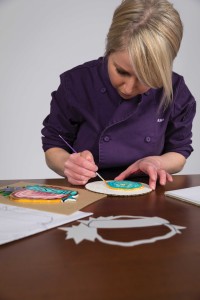 When she was growing up in Huron, she would always bake cookies or bars and make sure they were part of a perfect presentation.
"My brothers and dad would eat them, and I'd get mad at them because I wanted them to look pretty," she said, adding those brothers and her parents are also State grads. "No matter what I was working with, I wanted to present it in a way that was pleasing to me.
"When I was younger, I would make different chocolate chip cookie recipes until I found the best chocolate chip cookie," Sydow continued. "And yes, I found the perfect recipe, really crispy on the outside and chewy on inside—that's my description of the perfect chocolate chip cookie."
That pursuit of perfection is part of her college education.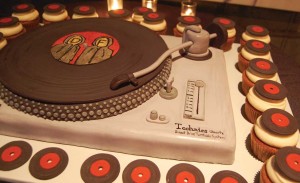 "My degree has helped a lot," she said. "It's given me an eye for detail and more of a unique approach. It's given me a background on how to apply text, how to lay things out or how to sketch. My design background has given me an approach of hand painting on my cakes and thinking of pieces in a more graphic way.
"The graphic design professors pushed us to find our own style," she said. "As a result, I started to put baked goods in my design projects and made posters called 'Bite my Cupcake.' I remember the teachers liked those, too."
The graphic design training comes in handy now because Sydow sketches each proposed final product whenever she can. She then meets again with the client to see if there should be any adjustments. Sydow follows the same steps if it's a cake with foxes or shoes on it or one that resembles former Jefferson Airplane lead singer Grace Slick.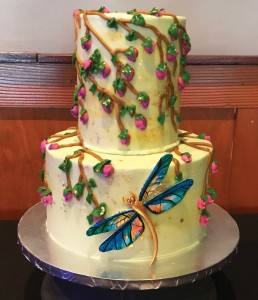 "I try to get to know my customer, who they are, what they want from their event and what they want to feel. I bring that to them in the final product," Sydow said. "I try to create items that help people give meaning to the event and something they'll remember forever … and that also taste good."
That's been her approach since getting her first customer when at State or when baking cookies for her family.