This New Year's holiday will once again find the Pride of the Dakotas marching in a big parade. Their last trip of this nature was to the Rose Parade in Pasadena, California. This time, they'll be on the other side of the country marching in the Orlando Citrus Parade.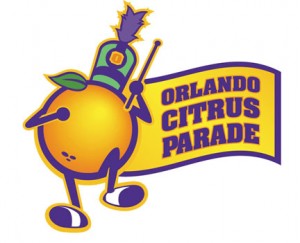 The Orlando Citrus Parade—you guessed it, the floats are decorated with citrus fruits—is traditionally held on New Year's Eve day, this year at 11 a.m. Saturday, December 31. The parade serves as a highlight for two different football bowl games, the Champs Sports Bowl on December 29 and the Capital One Bowl on January 2.
Although it's not as big as the Rose Parade, the Orlando Citrus Parade has close to 3,000 participants and more than 2 million viewers take in the broadcast of the parade that can be seen in 89 percent of the homes in the United States.
Band Director Jim Coull says that while there was some discussion about having the Pride march in the Macy's Thanksgiving Day Parade, the timing of the parade in Florida was far better for students.
The trip to New York City would have used up students' entire Thanksgiving vacation and likely caused them to miss some class time, too.
"To me, that's problematic," Coull says of missing classes. "Now they can still spend Christmas with their families, they don't miss any school, and they get to go someplace warm."
The musicians depart Wednesday, December 28, and return on Sunday, January 1.
Timing and weather weren't the only factors guiding Coull's decision.
"The best feature—it's way shorter than the Rose Parade," Coull says.
He explains that at the Rose Parade, where the Pride marched in 2003 and 2008, the band faced a two-mile walk just to get to the place where the five-mile parade began.
"It was quite a workout," recalls senior Shelbie Kinsey, a clarinet player from Sioux City, Iowa, who marched with the Pride in the Rose Parade in 2008 and hopes to make the trip to Orlando as well. "We walked for miles just to get to the beginning of the parade route."
 Many benefits in band trips
The Pride of the Dakotas is no stranger to playing in big events. In addition to two Rose Parades, they marched in President Ronald Reagan's 1981 inaugural parade, President Bill Clinton's inaugural parade in 1998, returned to Washington, D.C., for the National Independence Day Parade in 2000, and they performed at a Green Bay Packers game in 1998.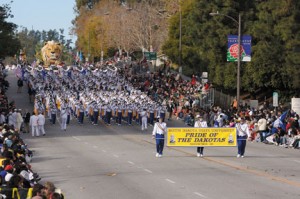 Traveling to perform on these big stages is more than marching and music. It builds character and confidence in various ways.
"There's any number of benefits that can come from a trip like this," Coull says.
At the top of the list of benefits is the performance experience that comes from playing in front of tens of thousands of spectators.
"They just can't get that type of exposure in South Dakota," Coull says.
He also notes that the prospect of air travel is new for some students.
"Most of our students are rural," Coull says. "They may never have been on an airplane. That's a big deal if you've never done that before."
In addition to excursions to a Universal Studios theme park and Disney World, the students will also have a guided tour of the Kennedy Space Center.
"When I grew up, we were allowed to stay home from school to watch a launch," Coull says. "Today's students probably don't have the same sense of awe, but that will be a good educational experience for them."
For Kinsey, an advertising major who marched in the Rose Parade as a freshman, the experience affirmed her place in the band.
"Every individual has their own moment when they think, 'I'm in the Pride,'" Kinsey explains. "After that trip, I knew I was a member of the Pride."
 Band members fly, instruments go by truck
When it comes to traveling with 250 band members and up to 200 fans, getting there isn't half the fun.
"Uniforms and instruments are a real pain to haul," Coull says.
Fortunately, SDSU learned to ease that pain for the first Rose Parade trip by hiring Perkins Storage and Transfer of Brookings to haul those items, a role the company will fulfill again for the Orlando Citrus Parade.
"That worked well," Coull says. "That takes care of one of the headaches for us. Plus, they move it around."
Moving the instruments and uniforms is needed because the Pride is also scheduled to perform in a parade at the Universal Studios theme park.
Coull credits Dave Reynolds, head of the Music Department, for handling many of the trip's details. The Pride is also working with a travel agency that specializes in organizing school trips.
 Fund-raisers in the planning stages
The opportunity for band members to promote SDSU comes with a $600,000 price tag, or about $1,200 per band member. Pride members and their families are responsible for just over half the cost. Alumni and friends are being asked to fund the balance.
Gifts may be made online at www.ItStartswithState.org. Or, contact Rina Reynolds, development director for the SDSU Foundation, toll-free at (888) 747-7378 or at rina.reynolds@sdsufoundation.org.
In addition, students of the Pride will be selling $10 raffle tickets for the country's hottest new car just being released. They are raffling a 2012 Jackrabbit blue Ford Fusion with a sunroof and a spoiler. Tickets will be available from Pride members during all home football games, or by calling the SDSU Music Department at (605) 688-5188. Buyers will be connected with students selling tickets. Each student is selling more than 100 tickets.