Washington, D.C., is a location familiar to Kevin Kessler and The Pride of Dakotas Marching Band. Kessler, the director of athletic bands at South Dakota State University, and The Pride made their third trip together to the nation's capitol in late May. Kessler was part of The Pride's performances in the 1997 Inauguration Parade and in the Fourth of July Parade in 2000. The Pride also performed in the 1981 Inauguration Parade.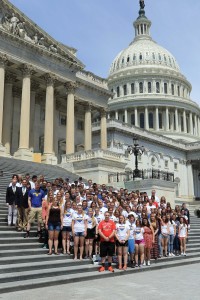 The Pride performed May 28 at the World War II Memorial as part of the National Memorial Day Concert Series and then participated in the National Memorial Day Parade May 29. The Pride also visited several memorials and the U.S. Capitol during the trip.
"For our students, it was a performance opportunity on a large scale on a large stage," Kessler said. "I was surprised by the high number of people who gathered to hear our concert at the WW II Memorial. We were honored by the attendance of two very special alumna—Ani Berberian, who currently serves as a clarinetist in the U.S. Navy Band, and retired U.S. Army General Myrna Williamson. Both spoke to the band following the performance, so that made it even more special. In terms of outreach, this was a chance for us to represent the state and the university on a national level. It's part of our tradition … we think big and pursue these big performance opportunities."
Landon Bushong, a fifth-year member of The Pride from Tulare, enjoyed playing "America the Beautiful" at the World War II Memorial.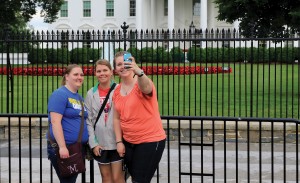 "I think it was very cool to play there, especially on Memorial Day. It's very humbling that we were able to have this experience," said Bushong, who is majoring in agricultural systems technology. "The most exciting thing is, even though I have been to D.C. before, I had yet to take it all in. This was a great thing for The Pride to do."