Five years ago, my wife, Marcia and I returned to Brookings and to South Dakota State University, where we met as undergraduate students. The campus at our alma mater grew during our years in Illinois, and it has changed substantially since our return.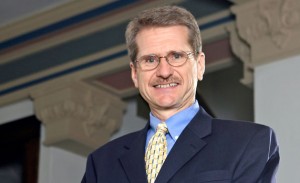 Five years ago, leaders from across the University joined me in creating a strategic plan that we call "Achieving National Distinction, Strengthening Local Relevance." In conjunction with that, the SDSU Foundation staff started the conversations that launched the "It Starts with STATE" comprehensive campaign to support the University's strategic direction.
Five years have moved quickly. We are in the last year of our strategic plan and the Foundation's complementary fund-raising effort.
Since 2008, we have completed major facilities such as the Avera Health and Science Center and the Electrical Engineering and Computer Science Building. A series of endowments and gifts have created scholarships for students and opportunities for faculty. Our researchers have doubled the amount of grants and contracts awarded to them. Our student-athletes have proven that South Dakota State belongs in NCAA Division I.
What happens next? It's time to start answering that question.
Provost Laurie Nichols and I have used the phrase "year of enlightenment" to describe our current preparatory work that leads into the next strategic plan. Our walk up to the next plan includes perspectives from across the University. Listening sessions will be held in colleges and academic units.
Additionally, our standing University committees and select task forces will start dialogue around specific topics—academic quality, research, extended education, recruitment and enrollment, diversity and inclusion, resource allocation, and campus planning, to name a few. Each of these listening groups will submit reports based on their conversation, and these inputs will help determine the new strategic goals.
The years ahead hold promise, including new interest in public higher education from state policymakers. Governor Dennis Daugaard, in his Fiscal Year 2013 budget proposal, recommended stable funding for higher education and a salary program for all state employees, including a 3-percent increase to the higher education pool. These actions indicate some economic recovery.
That next strategic plan, according to our timeline, will be written late this summer with revisions and approvals late in fall semester 2012. Colleges and units will be asked to formulate their plans during spring semester 2013, and the new strategic plan will commence in July 2013.
Strategic plans often are described as road maps—illustrating how an organization moves from a current position to a desired position. We are talking about the next journey ahead of us, and we'll be creating that map soon.
Thank you for your interest in the University and your continued support of our alma mater.
David L. Chicoine, Ph.D.
President
Class of 1969