I wrote in the last issue of STATE magazine about the development of the next five-year strategic plan for South Dakota State University, "IMPACT 2018." I also revisited several of the major accomplishments achieved under the retiring strategic plan, "Achieving National Distinction, Strengthening Local Relevance."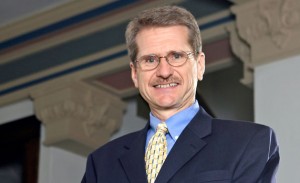 Certain components of IMPACT 2018 will look familiar. As a comprehensive teaching and research university, South Dakota State will continue to emphasize:
• academic excellence, student learning and degree completion,
• research-derived new knowledge creation and creative arts to drive science and technology economic and community development,
• expanding the reach of the university, and
• stewardship of resources for efficient and effective operations.
Five years ago, the SDSU Foundation aligned the "It Starts with STATE" comprehensive campaign to the goals of the retiring strategic plan. As we move forward from the very successful fund-raising campaign, future investments by alumni and friends will be necessary to realize the promise of IMPACT 2018. Priorities include scholarships to support student success, endowments for faculty positions and programs, and funding for new and improved facilities.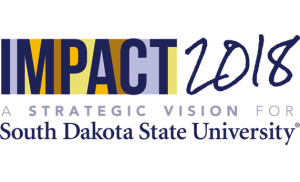 The university will be implementing decentralized budgeting to better align academic responsibility and budget authority. The current centralized incremental budget process does not support achieving IMPACT 2018's strategic goals. Decentralized budgeting is common across high-performing public research and land-grant universities and will assure high-quality, least-cost operations.
The 2025 Design and Master Plan, distributed last fall, provides a guide for development of the university's physical facilities and the creation of a heightened sense of place on campus. The 2025 Design and Master Plan, over two years in development, connects the division-level work on student housing, dining options, athletic facilities, future academic building sites, parking, building design and campus greens and landscaping.
Another major factor in implementing the master plan will be the Jackrabbit Green Site Plan, expected in April. This corridor connects Medary Avenue, Berg Agricultural Hall and the Alfred Dairy Science Hall to the Wellness Center and Frost Arena on the east side of campus. Its design, including the Briggs Library and the University Student Union, will encourage outdoor interaction for people on campus.
Master plan implementation also will include the completion of three major academic building receiving some disbursements from the student-resourced Higher Education Facilities Fund — the Architecture, Math and Engineering Building; the addition to the Performing Arts Center to support theater and music; and the Visual Arts Building. All three require gifts of private funds to be completed.
Together, the work against these plans and efforts will move our university forward.
•••
Alumni and friends who want to read more about the IMPACT 2018 strategic plan and the 2025 Design and Master Plan should check the university's website, specifically http://sdstate.edu/impact/upload/StrategicPlan2018.pdf and http://www.sdstate.edu/president/facilities/upload/DesignMasterPlan.pdf.
David L. Chicoine, Ph.D.
President
Class of 1969