Successful. Genuine. Smart.
Those words consistently come up when people talk about Rob Bishop, who started as South Dakota State University's ninth all-time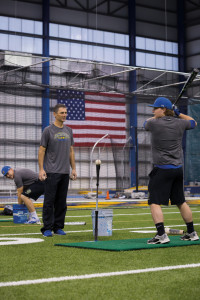 baseball coach in August 2016.
The 44-year-old Bishop has led teams to more than 500 collegiate wins and his impact has already been felt by the Jackrabbits.
"He is a genuine guy who cares about his players, the program and the university. Guys feed off of that attitude, and attitude is half the battle in baseball," said Luke Ringhofer, a junior catcher from Cottage Grove, Minnesota. "Coach Bishop is also a great communicator.
He knows how he wants things done and does a good job of communicating that. He also knows how to teach the mental side of the game, which is a tough aspect of the game for a lot of people."
That approach allows his players to be successful, according to Bishop.
"As I've gone through and matured as a coach, I've picked a few things that I care a lot about and really communicate that to our players," he said. "I try to let the players play. I don't want to have them play the way how I want them to play. I'll adjust our game plan to what they do best instead of the other way. In this situation, where all of the players are new to me, I have to adjust to them rather than vice versa."
The Jackrabbits have picked up on that.
"Coach Bishop knows baseball is a funny game as not everyone is taught the same way or succeeds the same way. He lets us excel at what we're best at," said Newt Johnson, a junior third baseman from Rapid City. "He's one of the smartest coaches I've played for. I know I can learn something every day from him."
Bishop has learned plenty since he started coaching with the Miles City, Montana, American Legion baseball team.
"I was just doing it as a summer job. I got five games into my first season as a sophomore in college and the light went on. I knew right there that this is what I wanted to do. I loved it," said Bishop, who played collegiately at the University of Jamestown and still has one of the program's top batting averages. "We were terrible but I loved every part of it."
After graduation, Bishop took a high school teaching position in Hawthorne, Nevada, but quickly realized he didn't want to teach high school students for the next 30 years. He then landed a graduate assistant position at State.
"At that time, coach Mark Ekeland and a GA were the coaching staff. As a result, I got a lot of responsibility, which was great," Bishop said. "There are a lot of times when you're paying your dues that you don't always get to coach and get to be involved in all of it. I had a great experience as a student and coach.
"As far as the environment at SDSU and in the athletic department, I became quickly aware that this is a great place to work, a great place to live," he continued. "I put SDSU on the radar as a place I'd love to come back to if I ever got the opportunity."
After his two years at State, Bishop was the head coach at Huron (S.D.) University before starting the Miles Community College team and then moving to Montana State-Billings.
"I learned early on that if you recruit good kids and get good people involved in the program, you can be successful anywhere," Bishop said.
Bishop led Miles to the 2007 NJCAA Division II World Series and is proud to see that program continue to be successful. It took Bishop a few years to get the program going in the right direction at MSU-Billings.
"We took our lumps for a couple of years," he said. "The team I left is as good as the last two (Great Northwest Athletic Conference) championship teams. Again, I'm happy to build a program and leave it in great hands."
Now he has his sights on the Jackrabbits and The Summit League. He is leaning on others for insights this season.
"I think one of the things Rob does really well is that he knows there are different ways to do things and he is not afraid to listen to other people or think of new ways to do things," said Brian Grunzke, an assistant coach and recruiting coordinator. "His ability to adapt to the strengths of our team this year is really good. It's been a good transition, and he's done a really good job getting our guys to come together."
Matt Johnson, a senior first baseman from Ankeny, Iowa, agrees about the team's cohesiveness.
"Coach Bishop met with us captains and said he wanted to start something new to build better team cohesiveness," Johnson said. "When the season starts, we will be holding a team dinner early in the week to give us a time to be together outside of practice and outside of class.
"Everyone is really excited to come to practice, ready to learn and with a lot of intensity," he continued. "We want to be there and want to get better."
The Jackrabbits are anxious to get the season started. The 2017 season starts in February in Phoenix. Regardless of the season, Bishop has the same goals in mind.
"Our simple goal each year is to earn degrees and win championships. I want our seniors to graduate, and I want everyone in their time here to be part of a championship. A championship experience can mean a lot of things.
"There are a lot of different ways to win a championship here. You can win a regular season or you can win the tournament championship, which gets you into the field of 64, which to me is the ultimate goal," he continued. "We want to play in a regional, I know coach (Dave) Schrage got to do that once here and I want our guys to have that experience. Everything we do is to put them in a position to succeed academically and to succeed on the field."
Matt Schmidt