With cattle outnumbering people by more than a 4:1 ratio, South Dakota must closely watch its livestock inventory. That livestock component contributes approximately $8.6 billion annually to the state's economy, according to the 2014 South Dakota Ag Economic Contribution Study.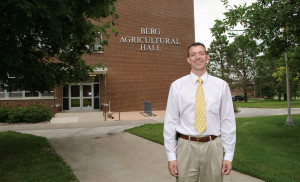 Making sure few, if any, diseases impact the livestock industry is Dustin Oedekoven '00, who serves as the state's veterinarian and executive director of its Animal Industry Board.
Oedekoven, who was raised in Sturgis, joined the South Dakota Animal Industry Board in Pierre as a staff veterinarian in 2003, became assistant state veterinarian in 2006 and state veterinarian in 2009. He oversees a staff of veterinarians and inspectors and is responsible for protecting the health of livestock in South Dakota.
"An average day is pretty hard to come by, which is what makes the job so interesting. It has a lot of variety to it," said Oedekoven, who was proudly wearing a Jackrabbits tie when visiting campus in August for a meeting. "As the state veterinarian, one of the primary roles is to work with the livestock industry to ensure the health of the livestock in our state."
To do that, Oedekoven and staff communicate regularly with a large number of counterparts and livestock producers, both in South Dakota and neighboring states. They also interact with SDSU's Animal Disease Research and Diagnostic Laboratory and other diagnostic laboratories, and the U.S. Department of Agriculture and its Animal and Plant Health Inspection Service veterinary services staff.
Knowledge of threats
"We need to be aware of disease status and also monitor health certificates for livestock coming into the state," he said. "We work with our Animal Industry Board to set appropriate test and import requirements for the livestock entering South Dakota.
"We're fortunate to be at a time when the health status of livestock in our state and nationwide is the best it's ever been," Oedekoven continued. "We've eradicated a lot of diseases that, at one time, plagued the industry. At the same time, we've seen some new diseases in the last 10-15 years. "
The threat of new diseases is what keeps Oedekoven up at night.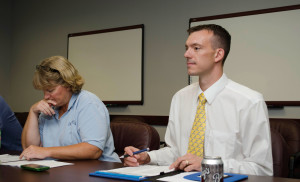 "One of the things we recognize is that we need to work toward the early recognition of new and emerging diseases that are economically important to the livestock industry," he said. "We need to know how to respond when we identify a new disease, particularly in that early phase when we don't know everything about the disease, but are starting to see some signs and effects.
"We have to find new and better ways to deal with those problems, communicate the real risks, and to continue the operations of those businesses and maintain the confidence of our consumers during those events," Oedekoven continued. "That's going to be our focus—identify those risks early on and respond with the least impact to the public and animal agriculture. The livestock industry doesn't operate like it used to. Obviously, there have been some significant changes to the industry, for the better. We're raising food for the world and doing it more efficiently, more economically and with less impact to the environment."
Wide knowledge base
Growing up with a diverse livestock operation allowed Oedekoven to gain knowledge about the industry. He took that knowledge and added to it when he arrived on campus.
"When I came to SDSU in 1995, I was really focused on getting into vet school and my plan was to return to Meade County and work with mixed-animal practitioners and the cow-calf industry there," he said. "Somewhere in vet school at Iowa State, I became really interested in horses and the equine world and that's what I did after school. I worked at an equine referral hospital in Sheridan, Wyoming, and I liked that.
"But somewhere in there I realized I strayed from my initial plans and wanted to get back to work with the livestock industry," he continued. "I had known Dr. Sam Holland, the previous state vet, and they had a job available."
Oedekoven worked under Holland for six years before becoming the state veterinarian.
"Having known Dusty since his childhood and knowing his parents, I was aware of his broad background and exposure to various sectors of the animal industry in our state," Holland said. "I think his keen ability to view issues from various viewpoints and be open to consider various solutions allows him to be successful. That, and his organizational skills and his ability to direct his interest and efforts to the problem at hand."
Campus familiarity
That focus came at an early age. As a 10-year-old, Oedekoven became interested in South Dakota State. His father, Dan, was pursuing his master's degree and Dusty spent several summers in Brookings, riding his bicycle around campus, visiting the library and spending time in the University Student Union and various residence halls.
That exposure to State, combined with attending the annual South Dakota State 4-H Conference helped convince Oedekoven to attend SDSU.
"I had considered going to some other schools but became an FFA state officer and that really solidified my decision to attend SDSU. As a state officer, you're really busy traveling the state talking to different FFA chapters, meeting with students and going to different events," said Oedekoven.
"When I got into this job, I didn't really know what to expect but I really saw more and more that I was interacting with people I already had developed relationships with through SDSU, 4-H and FFA so it was a really comfortable fit for me," he continued. "I was able to recognize it was an extension of what I had been preparing for, and it was a good fit."
While Oedekoven knew he wanted to be a veterinarian, he didn't predict serving as the state veterinarian.
"I really looked at regulatory work as a short-term job until I found a practice to work for, but I really came to appreciate the interaction with the livestock industry and the variety of the job," he said. "I didn't expect it, but it's a great career and I really enjoy it."
And that comes despite teasing from his children about his job. He and his wife, Jenn—who also attended State—have five children: Morgan 12, Madison 9, Alex 7, Sarah 2, Gabriel 8 months.
"They say they want to become vets, too, but real ones who work with animals … unlike Dad."
Matt Schmidt