South Dakota State University's student-managed investment fund team won national acclaim, earning first place in the student-managed portfolio competition at the Quinnipiac Global Asset Management Education (G.A.M.E.) VII Forum.
The three-day event was held in New York City and brought together more than 1,500 students and faculty mentors representing 157 colleges and universities. The participants were from 41 countries, 46 states, Puerto Rico and Washington, D.C., and were able to learn and interact with 140 speakers from nearly 100 companies and organizations. The SDSU team was one of 18 selected to present to the judges, winning the undergraduate competition.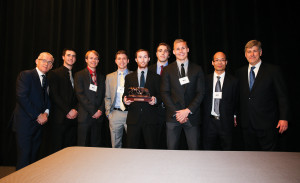 "This is a significant accomplishment for not only the students, but also for the university," said Zhiguang (Gerald) Wang, associate professor of finance in the Department of Economics and faculty adviser for the team. "It establishes that SDSU provides students with a high-quality financial and business education to compete on the largest stage for this type of competition. This was a dedicated and talented group of students who stood out against finance and business schools from around the country and the world."
Wang's role with the portfolio was to execute trades and serve as a risk manager. The investment experience was made possible through the First Dakota National Bank e-Trading Education Lab, which was dedicated in October 2015. The lab was made possible through a financial gift from First Dakota National Bank in Yankton, S.D. Support from four cooperatives—CHS, CoBank, Farm Credit Services of America and Wheat Growers— covered the operating costs of the lab.
The economics department's First Dakota National Bank e-Trading Education Lab is one of the resources available to the Ness Division of Management and Economics. Larry Ness is the CEO and chairman of the board at First Dakota National Bank. Steve Stahly, who supported Wang through the Stahly Faculty Scholar funding, is a principal of Stahly Financial in West Des Moines, Iowa.