Education has always been a top priority for Roger Fritz.
His dedication to education has made him an important figure in his Colman community.
The '60/'66 State grad served the Colman-Egan School District for 42 years, first as a vocational agriculture teacher, then principal and subsequently superintendent.
Originally from Tea, the Lennox High School graduate pursued an education at South Dakota State, planning to farm.
After graduating from SDSU with a technical agriculture degree in 1960, Fritz received U.S. Army commission and entered the service in January 1961. That fall, Fritz received a phone call from the superintendent at the Colman School District, asking him to teach the vocational agriculture class.
From fall 1961 to fall 1962, Fritz served as an Army infantry officer in Fort Benning, Georgia, followed by Fort Carson, Colorado. Because of the Cuban Missile Crisis, Fritz was extended, and started teaching vo-ag in Colman in October 1962.
Two years into his teaching career, the Colman School District was in need of a principal, and offered Fritz the position. He accepted, and began work toward his master's in education.
Fritz drove to Brookings for evening and summer classes, and graduated with his master's in 1966. That same year, the school board asked Fritz if he would like to fill the vacant superintendent position. Fritz accepted, and served the longest term as superintendent in the district's history.
Fritz stayed engaged with students by substitute teaching and directing the high school plays.
He was honored as South Dakota's outstanding superintendent in 1998 at the National Education Conference in New Orleans.
Fritz was instrumental in consolidation of the Colman and Egan school districts in 2002. "It was a lot of work coordinating and reorganizing the schools," he said. "There was the community worry that closing the Egan School would lead to the deterioration of the town. But financing was a big issue. It was a challenge balancing the community's relevant worry with the realistic solution."
Fritz was also a main influence in passing the bond issue in 1976 that allowed Colman to build a new elementary school and gymnasium, and a new high school in 2002.
"I was around from the beginning of a lot of changes," said Fritz. "With the help from staff, I probably wrote every single Title I Grant application."
During all that time, Fritz stayed active in the Army Reserve. Fritz obtained the rank of colonel, and enjoyed teaching military education in Sioux Falls. He spent 32 years in the military combined with active duty. "I really enjoyed combining military and education," said Fritz. "I had a great time teaching cadets."
About the students
For Fritz, it's always been about the students. "The best part of my career was my relationships with students and faculty," said Fritz.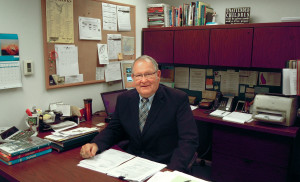 "My philosophy was that it was our job, as mentors, to provide opportunities for kids to be successful in the world—teaching the basic skills for getting a good job and being a good citizen."
Fritz said it was always a goal of his to make sure students could take pride in their work and reap the rewards through academic excellence and extracurricular recognition.
After Fritz retired in 2008, the school named the football field after him. With his help in the renovations, "Fritz Field" was expanded, re-lit, re-sod and housed a new press box. "I helped with the planning process of the renovated field, and did a lot of the actual work—digging and sodding. I wasn't expecting the designation, but it was a great honor."
Fritz and his wife, Judy, have four children—Jeff, Greg, Sue and Sandy—10 grandchildren, and six great-grandchildren, all of whom live in Colman. "We're really lucky to have everyone so close," said Fritz.
During the summertime, Fritz and Judy spend time at their cabin near Deadwood.
Winters are spent at their Surprise, Arizona, home. "We spend a couple months down there every winter," he said. "It's fun to get together with the other snowbirds from South Dakota and North Dakota while we're there."
When he's not spending time with family, Fritz enjoys deer hunting and woodworking. "I like doing lots of little projects," he said. "I make benches, coin banks, some small furniture—I enjoy it."
The retired National Guard member remains active in Colman's American Legion Auxiliary chapter.
He has fond memories of his time spent at SDSU, and makes his way back to campus each year for the Hobo Day football game. In the past, he served a term on the SDSU alumni board. He has also helped raise funds for alumni functions and campaigns.
Fritz stays active in the Colman community, attending as many sporting events and other extracurricular activities as he can.
Over the years, Fritz's involvement and dedication to education have made him a pillar in the community.
"I guess I could say I thoroughly enjoyed my job," said Fritz. "Even though there were some ups and downs, I'm thankful for the support from the staff, faculty and people in our community throughout the years."
Karissa Kuhle