Bob Karolevitz, a charter member of the South Dakota Hall of Fame in 1973 and an SDSU Distinguished Alumnus, died June 17, 2011, at Avera Sister James Care Center in Yankton. Burial was at Sacred Heart Cemetery in Yankton.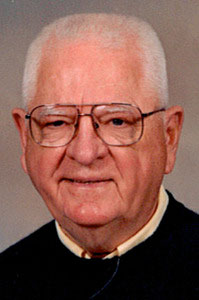 Karolevitz, age 89, of Yankton, was a member of the Class of 1948 and was honored as a Distinguished Alumnus in 1979. He also was president of the SDSU Alumni Association in 1975-76. In 1986, he was named a distinguished journalism alumnus at SDSU.
Karolevitz received an honorary doctorate from SDSU in 2006. The printing and journalism graduate wrote thirty-seven books as well as thousands of newspaper and magazine articles.
Along with his historical works, Karolevitz authored the column Writer at Large, which appeared in a number of South Dakota newspapers. The column began in 1983 and the last of more than 3,000 columns was published May 21, 2010. He also wrote The Way It Was, a historical column featured in the Yankton Daily Press & Dakotan.
He compiled his favorite columns into two books, Tears in My Horseradish (1983) and Toulouse the Goose and Other Ridiculous Stories (1985)
His list of awards is almost as long as his list of awards.
On April 1, 2006, the South Dakota State Historical Society presented him the Robinson Award, the most prestigious of the annual Governor's Awards for History. He served on the society's board from 1973 to 2005.
He also was recipient of the Sertoma Service to Mankind Award (2005) and the Bishop Dudley Media Award from the Diocese of Sioux Falls (2004).
The South Dakota Hall of Fame named Karolevitz as Writer of the Year in 1986. The South Dakota Newspaper Association named him Distinguished Citizen of the Year in 1981, and the South Dakota Council of Teachers of English named his Author of the Year for 1989-1990.
Karolevitz was chosen as Yankton's Citizen of the Year in 1981 for his literary work and civic involvement.
From 1943 to 1946, Karolevitz served with the United States Army Infantry in Japan and the Philippines during World War II.  He attained the rank of captain of the 25th Infantry, and, as division historian, wrote his first book, The 25th Infantry Division and World War II, which was published by the Army and Nave Publishing Company in 1946.
In 1951, Karolevitz and his wife, Phyllis (Gunderson) settled in Seattle. He began working as a freelance promoter and publicist for the 1962 Seattle World's Fair. He also worked at political ghost writing, commercial writing, and advertising, eventually becoming president of the Seattle Advertising Club.
In 1967, after almost two decades in the Seattle, Karolevitz returned to South Dakota with his wife, Phyllis, and two daughters, Jan and Jill. Here he continued his freelance writing career and began building a publication list that included numerous historical works. These included Where Your Heart Is: The Story of Harvey Dunn, Artist, which earned Karolevitz the National Cowboy Hall of Fame Wrangler Award, presented to outstanding writers in the field of western literature.