South Dakota State University student Kyla Mauk was crowned the 62nd Princess Kay of the Milky Way at the Minnesota State Fairgrounds Aug. 26.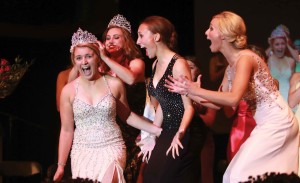 A sophomore majoring in agriculture education, communication and leadership, Mauk is from Howard Lake, Minnesota, and is the daughter of Chris and Harlan Mauk. She is also an ambassador for the College of Agriculture and Biological Sciences.
"I'm so excited to be able to represent the hardworking dairy farm families of Minnesota and be able to talk to people about the importance of dairy," Mauk said. "I will still be able to be a full-time student at S.D. State. I'll just be doing a lot of traveling on the weekends to make appearances at community events, farm tours and more. During school breaks, I'll also be visiting classrooms around the region to educate students about healthy dairy foods and the farm families who produce them."
As Princess Kay, Mauk will serve as the official goodwill ambassador for Minnesota's 3,500 dairy farmers. Candidates are judged on their general knowledge of the dairy industry, communication skills and enthusiasm for dairy. Midwest Dairy Association sponsors the Princess Kay program.