An online clothing store and a fishing guide service came away with the top honors at the 2016 First Dakota National Bank New Venture Competition, held at South Dakota State University.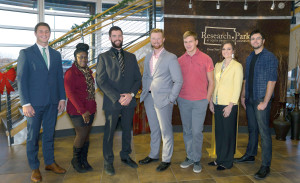 Brooke Pravecek, an entrepreneurial studies major from Scotland, and Adam Walter, an economics and speech communication major from Yankton, each took home a prize of $2,750 in December's award ceremony at the Brookings Innovation Campus at the Research Park at South Dakota State University.
Students were encouraged to submit an essay describing a business plan, explaining how the venture would work and the market demand.
Pravecek's business plan creates Highway 25, an online clothing store. She developed the idea for the business when her high school and college friends complimented her wardrobe, wanting clothing like hers. Pravecek dubbed the online store as Highway 25 because the road runs through her hometown.
The store will include unique pieces hand-picked by Pravecek, but will have a couple of each item on hand. She plans to launch the online store following her May 2017 graduation. Pravecek is looking at using her prize money to purchase items to help start her business.
Walter first created his plan, Red Arrow Bow Fishing, as a high school economics assignment. He also plans to launch his business in May 2017 and will operate it during the summer in his hometown of Yankton, and along the Missouri River. His prize money will go toward a new boat for the business.
Other finalists include: Dominique Smith, Freeport, Bahamas, $2,000; Merrick Erickson, Watertown, $1,250; Christian Custer, Lake City, Minnesota, $500; Connor Van Duyn, Dell Rapids $500; and Jacob Clement, San Diego, $250.
Honorable mention selections were: Kassandra Bailey, Sioux Falls; Derek Christians, Westbrook, Minnesota; Laurel Diekhoff, Wessington; Andrew Englemann, Brookings; and Mariah Pederson, Chatfield, Minnesota.