Dear Alumni and Friends,
The fall semester is a wonderful time on the SDSU campus. The leaves begin to change on the trees, the students have developed their routines after starting another academic year, and the hint of chill in the air means our Jackrabbits' athletic teams are competing for conference championships and more trips to NCAA Championships.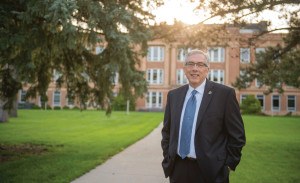 This fall has been particularly special. We welcomed hundreds of alumni home and celebrated the new Alumni Green with stirring performances by The Pride of the Dakotas, the SDSU Concert Choir, and we illuminated the Coughlin Campanile with a video that captured the heritage and pride of SDSU.
Jane and I have also had time to reflect on the Inauguration Ceremony that took place just over a year ago—a true celebration of the university and the honor I was bestowed to be the 20th president of SDSU. It is an honor that I cherish every day.
During that ceremony, I asked our university, alumni and students to imagine. Imagine a future where SDSU is a leader and an institution of higher education having an even greater impact on the state, region and the world.
Since the inauguration, university leaders have been engaged in developing our new strategic plan—an aggressive road map for our future, setting standards for academic excellence, research and scholarly work. The plan will showcase the best of SDSU as well as opportunities that exist to transform the university into a global leader. I know many of you provided feedback through online surveys. I thank you for taking the time and value your input.
In addition to strategic planning, members of the university have also begun a process to develop a comprehensive enrollment management plan. The plan will include strategic direction and goals to recruit and retain the best students while honoring our land-grant mission of access to higher education.
Both of these plans will be finalized and implemented within the next year. They will be vital to the university, but equally important, they will provide you information on the future direction of our institution. I look forward to sharing them and discussing ways we can all be involved in advancing the mission of SDSU.
Thank you for your support of SDSU and being part of the Jackrabbit family. I look forward to seeing you soon.
GO BIG. GO BLUE. GO JACKS.
Barry H. Dunn
President, South Dakota State University