A group led by Provost Laurie Nichols has been developing the university's next strategic plan. This effort has included nine listening sessions at sites across South Dakota, 25 dialogues on campus covering 13 topics, conversations with volunteer leaders of the SDSU Alumni Association and SDSU Foundation, and more than 30 meetings with university departments.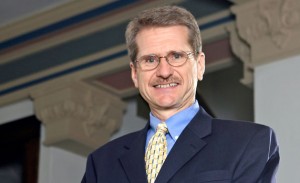 These forums have provided rich insight into the university, its academic programs, its operations and, most importantly, its future. The Strategic Planning Leadership Council later this semester will present a draft strategic plan to various constituents. The final product will go live in 2013.
Just five years ago, the current strategic plan "Achieving National Distinction, Strengthening Local Relevance" was taking shape. As university leaders prepare the next plan, it is apparent that our accomplishments over the last five years will influence that blueprint. Many accomplishments merit consideration and celebration.
Accreditation
During the current strategic plan, the university has been re-accredited by the Higher Learning Commission. Thanks to leadership from department heads and faculty, some 50 degree programs are accredited or certified by agencies and organizations; several more are moving toward accreditation. These accreditations validate the degrees our graduates take into the marketplace.
Reorganization
Reorganization and cross-college efforts attest to the stewardship practiced by university leaders. The College of Education and Human Sciences condensed two colleges and seven departments into four departments under one dean. The Economics and Management Initiative draws expertise from four colleges and four departments to strengthen academic programs and to support accreditation. Design faculty across four programs and three colleges have collaborated in a similar fashion. These new approaches have increased effectiveness and have produced efficiencies.
Research
The link between university research and economic growth is obvious. Research expenditures have doubled in five years with comparable growth in awards. Thanks to inquisitive researchers, the number of invention and intellectual property disclosures has rocketed from nine to more than 60 in just four years.
The university's circles have been extended in recent years. Thanks to innovative faculty and supportive information technology professionals, more courses utilize advanced technology and reach students all over the world. Students and faculty have participated in cocurricular opportunities on four continents. Jackrabbit student-athletes have qualified for national competition in several sports since the move to NCAA Division I — boosting alumni pride everywhere.
Finances
And progress has been made on a sustainable financial model. Thanks to the generosity of donors, the SDSU Foundation will succeed in its $200 million campaign that has raised funds for new buildings, increased resources for faculty and scholarships. Thanks to support from students, special fees have been implemented to enhance learning experiences in high-cost programs. Thanks to forward-thinking administrators, work has started on a new budgeting model for the university.
Facilities
The physical environment in which our students learn will continue to change. The Legislature approved the Board of Regents' 10-year project plan that will utilize payments from the Higher Education Facilities Fund and funds from donors and other sources to construct five vital facilities at SDSU — Performing Arts Center additions; a building for architecture, mathematics and engineering; a new headhouse and greenhouse; a visual arts facility; and a cow-calf research unit.
As we chart the university's direction for the next five years, these accomplishments during the past five years will be remembered as building blocks in the bright future.
David L. Chicoine, Ph.D.
President
Class of 1969