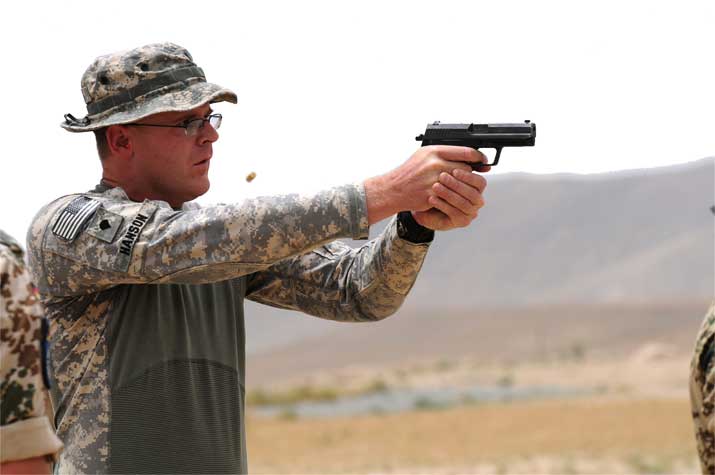 Whenever John Hanson's goals seem unattainable, he recalls his mother's words of encouragement. "She always said that no matter what people said or thought that I could prove to them not to judge me," he says. "When someone tells me I can't do something, I find a way to do just what people said I couldn't do."
The creed fits Hanson well, because the 1999 State graduate beat the odds and is now serving in Afghanistan. Although thousands of other men and women like him are serving their country overseas, his deployment warrants a special story—one that truly speaks to personal triumph, family tradition, and military service.
Hanson, who was deployed May 2010, has lived with cerebral palsy all of his thirty-three years, but the affliction doesn't detract from his job duties as office manager for the Directorate of Resource Management at Camp Phoenix, which provides construction, commodity, service contract management, and funding oversight for eleven military bases in the capital city of Kabul.
A specialist in the Sioux Falls-based 196th Maneuver Enhancement Brigade of the South Dakota Army National Guard, Hanson's condition is known as spastic diplegia, a form of cerebral palsy that affects his walking ability with little to no affect to the upper body.
So, why would Hanson, a native of Badger with a degree in wildlife and fisheries science, want to enlist in the military, especially with the challenges that cerebral palsy pose?
"I'll be honest," he says. "I wanted to be part of something. I wasn't part of the 'in crowd' in high school or even at SDSU. Being in the Army I'm part of something that is more than just a sum of all the people in it."
After long way, good news comes
At Camp Phoenix, Hanson is viewed simply as another soldier.
"As long as we do our jobs, it doesn't matter what people think," he says. "Some people have missing fingers, some can't hear well, and some of us wear glasses. In the end, those things don't make us any less of a soldier."
That wasn't the way it always was for Hanson, who was originally thought of as someone who was unable to perform adequately enough to be in the military.
Prior to the military, he was quite busy. In Badger, he was a volunteer firefighter and a paramedic, later moving to Sioux Falls, where he worked at Sanford Hospital as a night shift EKG technician.
In 1995 he was denied eligibility to join the National Guard by a physician at the Military Entrance Processing Station (MEPS).
Not giving up, Hanson worked with civilian doctors in the succeeding years to improve his mobility so he could become medically eligible—undergoing numerous surgeries and physical therapy.
Good news finally came in 2006 when his civilian physicians and the military doctor finally certified that he was medically fit for duty.
"The feeling I had when I graduated from SDSU was nothing compared to the feeling the day I went to MEPS to take my oath of enlistment," recalls Hanson, who credits the support of family, friends, and coworkers.
"They all knew it was a dream of mine to wear the uniform of the United States Army and I was going to do whatever it takes."
In the end, though, it was Hanson's own perseverance that paid off.
"The only issues I really had was people judging a book by its cover," he relates. "I'm just glad to show them that no matter what, if you put your mind to it, any dream can come true."
Family tradition intact
Since donning the Army attire, Hanson has met his military duties head on, according to Sergeant First Class Paul Carroll of the 196th.
"John is always upbeat and ready to do whatever needs to be done," he says. "He knows how to keep things fun and yet still get our job done to the highest standard."
It's Hanson's job to make sure the office runs smoothly, and "no," he quips, "I do not make the coffee!"
When another unit enters Camp Phoenix and makes a request—from printers for offices to the construction of buildings for troops to live in—Hanson is the person they deal with first.
"I'm the guy who makes sure they have all the right paperwork, that it's filled out correctly, and to make sure it gets sent to the right people for approval all the way up the chain of command," explains Hanson, who is also a member of the Camp Phoenix volunteer fire department.
Serving in the Army was more than a personal triumph. It also fulfills a long-standing tradition of family service.
The American Legion Hall in Badger is named after his great-uncle who was lost at sea during Japan's attack on Pearl Harbor December 7, 1941. His father was in the National Guard, his uncle was in the Air Force, one grandfather was a lieutenant in the Army Air Corp, and another grandfather was a Marine.
"I wanted to feel a part of something that is not only a great organization, but also part of my family," says Hanson, who is an assistant recruiter with the National Guard. "Call it not only a sense of duty and honor, but a way to live up to the example set by the people who surrounded me."
And, make no mistake about it, when Hanson's deployment ends, he has no thoughts of leaving the Army.
"I told everyone when I was finally able to put the uniform on, that the only way they were going to take it off was to cut it off," he says. "I'm not giving it up, so if I can put in the twenty-plus years to retire, then that's what I'm going to do."
Kyle Johnson