Distinguished alum makes screen debut
Renowned cardiologist James R. Higgins '73 still has a thousand items on his bucket list, including riding on Air Force One, visiting Camp David and climbing Mt. Everest.
Acting in a movie is no longer on the list. Higgins, an electrical engineering major from Wessington Springs who has practiced cardiology in Tulsa, Oklahoma, since 1986, had a 40-line part as the president of the United States in the political thriller "Persecuted," which opened in 600 theaters July 18.
He had previously been an extra in a couple movies, but this was the first time the former flight surgeon had a speaking part.
Through a friend, he had met producer Grey Frederickson, an Oklahoma native who had moved back to his home state after a successful career in Hollywood. "I told him I would like to get in a movie," said Higgins, a first-team CoSIDA Academic All-America® basketball player at State in 1971 and 1972.
Later, Frederickson called to tell him of an audition. "When they saw me, they said you look like the president," Higgins shared.
Hearing Higgins deliver his lines convinced the casting director. In August 2013, Higgins was on the production set in Albuquerque, New Mexico, with a cast that included noted actors James Remar, Bruce Davison and Dean Stockwell as well as former U.S. senator and actor Fred Thompson.
It was the first acting Higgins had done since performing in "January Thaw" in the senior class play at Wessington Springs in 1969.
Two days to film three minutes
Higgins said he found acting both eye-opening and fun. "My scenes in the movie are probably a total of three minutes and it took two days to film it. You do each scene from multiple camera angles. I probably said my lines 2,000 times on the set," said Higgins, who arrived on a Friday to observe before the filming of his scene on Monday.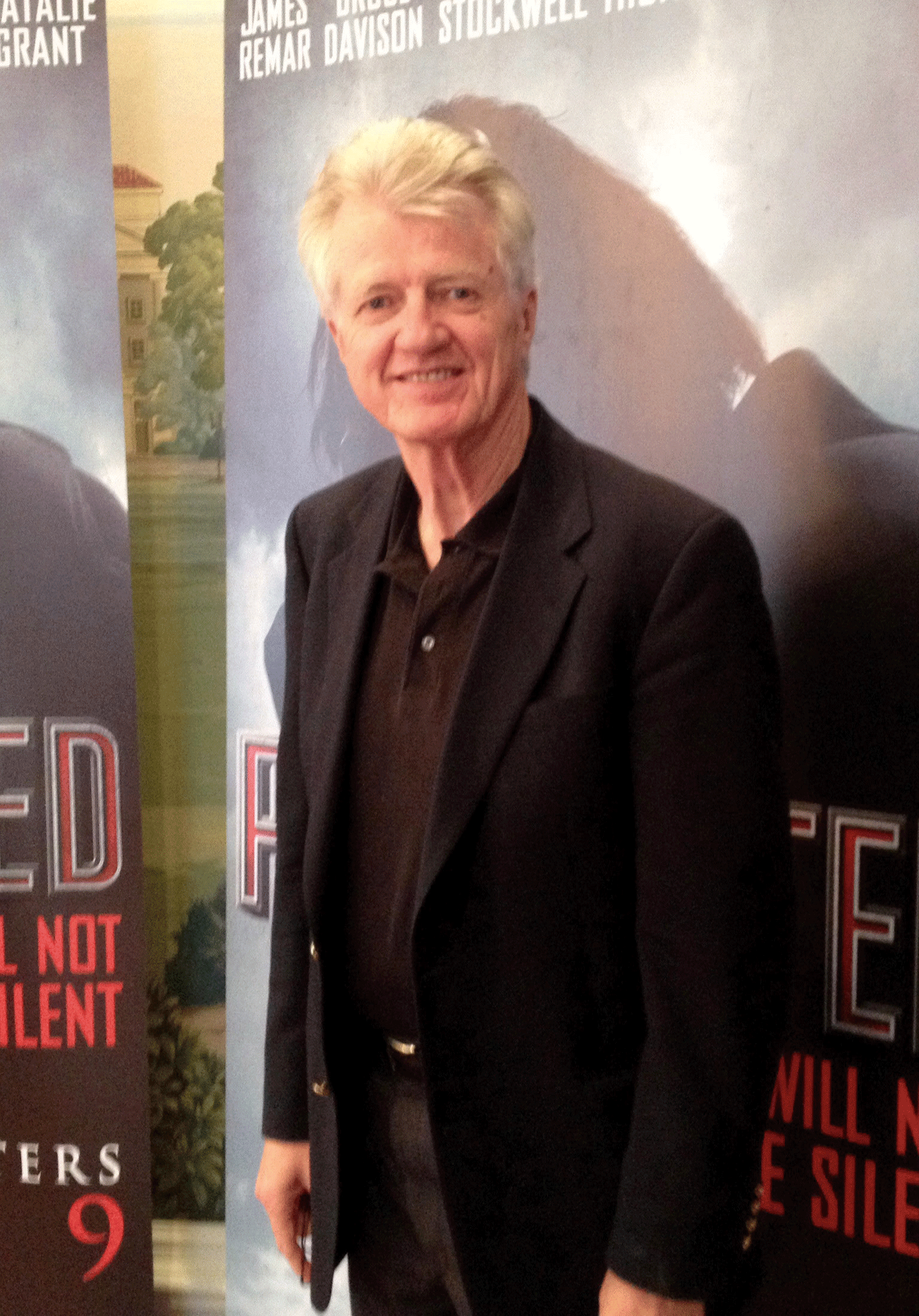 He then returned to his practice for 16 days, but went back for one more day of filming. Each day of filming for Higgins was an eight-hour production.
"It was a fun learning experience. I didn't realize my filming would take eight hours for two days," he said, noting he was paid the minimum wage of $82 per hour for nonunion actors. Afterward, he accepted an invitation to join the Screen Actors Guild, mostly so he could receive a free DVD of every movie up for an Academy Award.
But he may have a chance to act as a union actor. He has been asked to audition for a part in another politically oriented movie.
In "Persecuted," "I play the president of the United States. I play a guy that is devious behind the scenes, trying to get some legislation passed that turns out to be pretty unpopular. That bill limits freedom of speech. I utilize a senator, who actually is the frontman, always staying back far enough so I can have some plausible deniability," he said in one of the movie's promos.
Film resonates with Higgins' viewpoint
Since filming wrapped up in September 2013 and postproduction ended in December 2013, Higgins has been active in promotion and has been helping with the advance sale of tickets.
Including a cardiologist in the list of actors has created intrigue in the media. Higgins said he has given 35 to 40 interviews, including one with Al-Jazeera TV. The Arab network spoke to Higgins after he participated in a March CPAC (Conservative Political Action Committee) Conference in Washington, D.C.
He was on a panel that spoke on a "burdensome federal government" and the trailer for "Persecuted" was shown twice to receptive crowds.
Higgins wasn't looking for a soapbox in crossing off acting from his bucket list item, but he found one. The political thriller is a story of "government overreach, government trying to suppress free speech, a Christian evangelist being persecuted and becoming a fugitive trying to clear his name.
"For me, it could be a rabbi, a cleric from the Muslim faith. But the producers are trying to market it as a Christian-based thriller.
"I'm very politically active, both nationally and in the state. I'm fiscally conservative and a states' rights supporter. That's why 'Persecuted' resonated with me. To me, it could be any religion that is getting persecuted. I look at it as a political thriller. The federal government could become too powerful and too big," Higgins said.
Impressed with organization
From car crashes to murders, there is plenty of action, and "until the very end, you don't know what is going to happen," Higgins said.
That wasn't the case on set. "Every day there is an 8 ½- x 14-inch paper front and back, that tells what is happening. PU tells who is picking you up, when and where. MU tells you what time to be in makeup, at wardrobe, on the set. I was just shocked how well organized everything was," Higgins said.
The detailed organization began six weeks before filming, when producers were "looking all over New Mexico for buildings, landscapes and rooms for every scene," Higgins said.
One reason he has such detailed information on the movie is that Higgins was more than an actor. Film director Daniel Lesko, who also wrote the script five years ago, engaged Higgins as a producer in charge of financial oversight. The film's total production budget is $2.2 million and there is another $6 million budget for promotion.
When movie studios saw the film, they called it the best production for the money that they had seen in 10 years, Higgins said.
Director accepts Higgins' script changes
The 1985 SDSU Distinguished Alumnus said he was "really happy" with how he did on the set. Part of that can be attributed to the fact that he arrived well prepared. Before filming began, Higgins asked Lesko how he should play the president, who has neither a name nor a political party in "Persecuted."
"I would call him, say my lines and he would play the person I was talking to," said Higgins, whose real-life roles also include inventing medical devices.
A man with plenty of confidence, Higgins wasn't reserved about making script suggestions. "'Daniel, I think it would be better if I said' this instead of that," he said.
In one scene, the president introduces the evangelist (James Remar) in the White House. I said the president should sound more boisterous, more grandiose. I did that whole thing, basically ad lib. Everybody loved it … I changed the script. I was always saying, 'How about this?' Maybe about 25 percent of the time, he (Lesko) thought it was a good idea," Higgins said.
"They all called me Mr. President on the set. I got compliments from people who had no reason to compliment me," he said.
But he doesn't plan to give up his practice for film. "I love seeing patients." He sees about 40 of them during his Friday defibrillator clinics. "Half would have been dead in the last three months if it wasn't for the internal defibrillator," said Higgins, who had a role in inventing part of the defibrillator's pacemaker.
However, since his son joined the practice last year, Higgins' schedule is more open to allow him to still add bucket list items.
Dave Graves