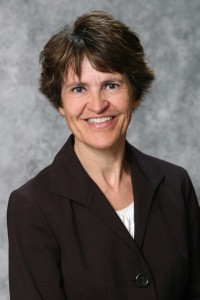 South Dakota State University Provost and Executive Vice President for Academic Affairs Laurie Stenberg Nichols '78 has been named the president at the University of Wyoming. The announcement was made following a UW Board of Trustees meeting Dec. 18  in Laramie. Her appointment will become effective no later than July 1, 2016.
An alumna of South Dakota State, Nichols was named the university's provost and vice president for academic affairs in June 2009. Before being named provost, Nichols served as the dean for the College of Family and Consumer Sciences from 1994 to 2009 and as the interim president at Northern State University in Aberdeen, South Dakota, for the 2008-09 academic year.
Nichols noted the opportunity ahead of her at Wyoming and her long relationship with South Dakota State.
"I am honored and excited to be named the next president at Wyoming. I look forward to providing leadership to the faculty, staff, students and stakeholders in Laramie," Nichols said. "I remain deeply appreciative of the opportunities I have had at South Dakota State University and the many wonderful people I have worked with for more than 20 years. It will be difficult to leave my alma mater, but I look forward to the exciting opportunities that lie ahead."
Nichols' term as provost has been highlighted by her leadership for the development of IMPACT 2018, the university's five-year strategic plan, and the Classroom Enhancement Initiative. The initiative will renovate 99 classrooms over a five-year period. When completed, there will be five active learning classrooms, four collaborative classrooms, 24 lecture fixed and 56 lecture mobile classrooms, 9 seminar classrooms and 1 high-tech conference seminar classroom.
In addition, Nichols has focused energy and resources on student success, retention and opportunities for American Indian and low-income students to attend and succeed in college. She has also championed accreditation of academic programs, moving the university from 32 in 2013 to 37 today, with many more in process.
South Dakota State University President David L. Chicoine said Nichols is prepared to serve as a campus chief executive, given the accomplishments at SDSU during her tenure as provost.
"Many of us have benefited from Laurie's work. Her leadership and experiences made her a very strong and competitive candidate to be a university president," Chicoine said. "The University of Wyoming, that state's land-grant university, is a terrific opportunity. She has been an important leader at our university. I am extremely pleased and excited for her."
Nichols has received numerous teaching and research awards for her innovative teaching, including her involvement in the creation of the Great Plains IDEA (Interactive Distance Education Alliance) that supports interinstitutional, online graduate degrees. Nichols was recently honored with an Award of Distinction by the College of Education and Human Ecology at The Ohio State University.
She taught at the secondary and postsecondary levels in South Dakota, Colorado, Nebraska, Ohio, Idaho and Iowa. From 1988-94, she held a faculty appointment at the University of Idaho. Nichols spent 2006-07 as an American Council on Education fellow, a program designed to identify and prepare senior leaders for the nation's colleges and universities.
During Nichols' years as dean, the college grew its graduate education to include a doctorate in nutritional sciences and created specialized master's degrees. Under her leadership, the college's faculty also increased their scholarly activity to receive more than $3 million annually in grants and contracts.
Her husband, Tim, has been dean of the Van D. and Barbara B. Fishback Honors College since 2008. Their daughters are students at land-grant universities.