Whatever the head does, the body follows."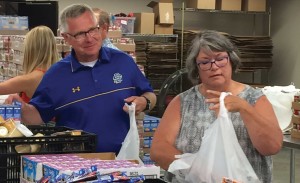 It's a familiar quote and one that can apply to many situations. In the context of this story, the words are from former SDSU football player Winston Wright, a May 2014 graduate who played four seasons at State. The head is head coach John Stiegelmeier. The body is his football team. Among the myriad things that Stiegelmeier does is community service.
"It comes down to who he is," Wright said. "I call it servant leadership. You see coach Stig after practice picking up the dummies and the pads. He was never too big to do something. I've seen him picking up trash."
Community service is so important to Stiegelmeier that he makes it a requirement for lettering. Three projects per year, but it's one of the few things he doesn't track.
"Our guys are really, really good about stepping up when they're asked" and they're continually asked to help with a wide variety of projects—from coaching FCA flag football to loading solar ovens on a 40-foot sea container to reading to elementary school students. "We get a lot of asks because it's the heartbeat of our program and we try to accommodate them in some way, shape or form," he said.
That has been the case since 1997,  when Stiegelmeier took the reins of the SDSU program after serving nine seasons as an assistant.
Advocates for Feeding South Dakota
In July, Stiegelmeier and his wife, Laurie, put up a $10,000 match for a Feeding South Dakota fund drive that was successfully met.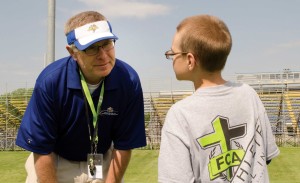 "That was a little out of the comfort zone for putting our name on it. (Feeding South Dakota director) Matt Gassen and (SDSU Foundation president/CEO) Steve Erpenbach asked if we would be willing to approach that concept. We've given to Feeding South Dakota (previously), so it was on our heart. They asked us to be a matching donor, but didn't suggest a dollar amount," Stiegelmeier said.
Because this service was designed to evoke community response, the Stiegelmeiers' gift was the subject of television and newspaper stories.
However, the hundreds of volunteer service hours performed aren't designed as photo opportunities. "We've never been one to call up the paper and get a photo. We really try to create a family and, because we're a family, this is how our family exists and part of that is service.
"When you have a family of 110 players and 15 to 20 staff members, you should be able to impact different areas. There's a lot of manpower there. We just try to serve. We don't do it to draw attention. Quite often, when we serve, we get as much out of it as those individuals we're serving," Stiegelmeier said.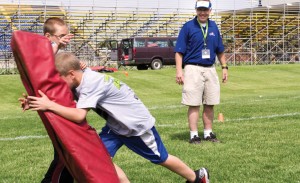 'Forever indebted to coach Stig'
Wright, a third-team The Sports Network All-America in his 2013 senior season, still remembers and is shaped by his community service here.
"South Dakota State changed my life. I'm forever indebted to coach Stig and the program. I'm still involved with my community," said Wright, who moved back home to Kansas City late this summer after working in Los Angeles doing football-related commercials. In inner-city Kansas City, Wright leads Bible studies and helps with school supply drives.
"All of that was stuff that was valued at South Dakota State and is important in my life now," said Wright, a certified personal trainer.
One of his strongest community service memories was seeing the Brookings Food Pantry director become teary-eyed after student-athletes went room to room collecting food at the residence halls at the end of the semester.
Then there was summer 2011 when Stiegelmeier chartered a bus for the team to go to Sioux Falls for community service projects.
Wright spent his time at Sanford Children's Hospital. "At the time, I was a 19- or 20-year-old kid. But to them (the children), I was Superman. Being able to put smiles on kids' faces was terrific and to be able to do that with my teammates made it even more special. We would split up in groups of 10 to 15 per group and go to four or five locations that needed a hand. At the end of the day, the bus would come pick us up," Wright said.
Servant award named for Wright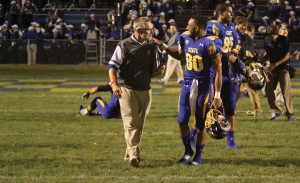 The importance Stiegelmeier places on community service can be seen in the postseason awards that the coaching staff gives to its players.
On the list are the Special Teams MVP (the Adam Vinatieri Award), the Offensive MVP (the Adam Timmerman Award), the Defensive MVP (the Doug Miller Award), the Team MVP (the Jim Langer Award), the Effort Award (the Josh Ranek Award) and the Servant/Humility Award, which is named after Winston Wright.
Wright, a 2013 selection to the Allstate AFCA Good Works Team, said the focus on community service "comes down to who he (Stiegelmeier) is. It's literally his heartbeat before football and after football. That's who coach Stig is. A good leader points you in the right direction. Sometimes there are good qualities in you that you didn't know were in there."
Community service is a tool Stiegelmeier uses to help players find those qualities.
Wright said community service was something he was familiar with in his home life, but not to the extent he found at SDSU. "As far as visiting hospitals and being with kids, I'd never done anything like that. That was definitely eye-opening to me. It stretched me; a lot of guys were stretched.
"It could be uncomfortable sitting with a kid who has cancer. But I believe, and coach Stig believes, within each person, there is an innate desire to serve. Teammates who might have been injured, that rolled ankle is everything in their minds, but when they see a kid with cancer, their perspectives change.
"Everybody left with a sense of gratefulness and gratitude for life," Wright said of the trips to Sanford Children's Hospital.
Volunteering: 'The way we do things here'
With a 100-man roster, there are bound to be some who don't buy into the concept. But senior running back Brady Mengarelli said, "It's always been a tone the seniors set, and it trickles down. If you're not the one who is volunteering, you're the outcast. That's the tone that's set for Jackrabbits football. That's the way we do things here."
Stiegelmeier explains, "The heartbeat of our program affects the heartbeat of every player. The guy that it is unnatural to, is drawn into that. You become who you hang around with."
That's what organizations like the Fellowship of Christian Athletes hope when it uses Jackrabbits as flag football coaches.
T.J. Carlson, Northeast Area director for South Dakota FCA, said, "FCA's vision is 'To see the world impacted for Jesus Christ through the influence of coaches and athletes.' By their status as a college student-athlete in our community, these guys have a platform to influence, a platform to serve others, a platform to make a difference.
"The kids look up to and emulate the players. We hope that flag football and some of the other programs FCA offers gives the SDSU student-athletes another opportunity to make a positive impact in lives in our community.
"From the top on down, the Jacks have a servant-leader mindset. They are going to make an impact on people either way; they may as well be intentional about making the biggest, most positive impact that they can."
Athletes offer a welcome influence
The players' efforts don't go unnoticed by the youngsters' parents.
Mengarelli said, "A lot of parents say thank you for being a great influence. I know all of the parents are really thankful. It's not really about that for us, but the community is really thankful when you're involved with their kids in a positive way."
One such parent, Jessica Hardt, the mother of two boys involved in flag football, said, "These guys give up what little precious free time they have to come out and coach kids that sometimes don't even know which way to run the football. These athletes are giving more than they realize, and they probably won't fully understand the value of their efforts until they are raising their own kids."
Combining weightlifting, community service
For Stiegelmeier, it's all about making a difference. Making a difference is so significant to Stiegelmeier that the 57-page manual each team member receives before the start of the season is called the M.A.D. (Make a Difference) Manual. It contains everything from dinner recipes to weekly schedules and team rules.
Interspersed are plenty of inspirational quotes, including one from Bertrand Russell, "One must care about a world one will never see."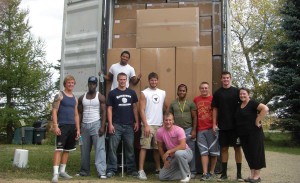 That philosophy is part of the reason the football team got involved with Solar Oven Partners, a Brookings-based effort of the United Methodist Church of the Dakotas that builds and packs solar ovens for use in Haiti, the Dominican Republic and Sierra Leone, where deforestation has caused a shortage of cooking fuel, as well as the Navajo nation in Arizona.
When enough ovens are built to fill a 40-foot sea container, the football team is asked to load the 80-pound boxes, which contain the materials for five ovens.
"The solar oven deal is neat. You leave your house and the fridge is full of food. You're loading up solar ovens for people who have to cook with the sun and probably get one meal a day. That marks you," Stiegelmeier said.
Serving alongside his players
The football team began working with Solar Oven Partners in 2005, when Diane Rieken was the secretary for the football program. She also was secretary for Solar Oven Partners and made five trips to Haiti to help deliver the ovens.
"John was very supportive with time off. He asked about the trips to Haiti that I went on with my daughter," Rieken said. Knowing Stiegelmeier to be "very giving, supportive, a real Christian" and knowing the football team to have done other community service work, she asked her boss if the players would help load the ovens.
Typically, Stiegelmeier joins a group of about eight players who volunteer, according to Rick Jost, who recently retired as project director.
Building better men through service
But it is also fun for the players.
"They're competing against each other for speed. Rick Jost would show them the schematic (on how the boxes are to be loaded) and they just took over. Offense, defense, special teams, underclassmen, seniors. We enjoyed their camaraderie and competition as much as their actual work," said Rieken, who provided treats afterward and would explain how the solar oven project worked.
Wright, the former defensive back, added, "I can't put into words how great of a guy coach Stig is. He really does make sure that whoever comes and plays for the Jackrabbits won't just be better a football player but a better man. One of the ways he does that is through community service. It was a good reminder that it's not about me.
"Football for me ended three years ago, but I still serve.
Life is not about me, it's about others."
Dave Graves