Dunn uses heritage to connect with high school class
Reading that incoming SDSU President Barry Dunn's heritage included membership in the Rosebud Lakota tribe, Washington High School Native American Studies teacher Bruce Rekstad saw an opportunity.
"I asked the students if they would like to send a congratulatory letter," he said. The classes agreed and in late April spent about 15 minutes writing letters of congratulations to the man who was selected as SDSU's 20th president May 23. Those simple letters, about 30 of them, which started as ripples, would then begin to produce ever-increasing waves.
"The students got into it … They wrote them from the heart," the Sioux Falls School District teacher said.
Zayda Zuniga was a 2015-16 Washington High School junior who was originally from the Rosebud Reservation where Dunn's maternal grandparents had a ranch. She wrote, in part, "I hope that in the near future, more people follow your lead and hopefully we can see more Native Americans take on the big roles like you have done."
Her brother, Marco, then a freshman, wrote, in part, "Thank you for showing the Native people that every single person can do good for themselves and their families."
Dunn said he was "surprised and humbled by their congratulations and taken back by the generous offers of help and support. 'You can do it Dr. Dunn.' 'If you need my help, just let me know.' 'I know it will be tough, but you'll do well and let me know if you need me. I'm here for you.' Their maturity and sincerity is amazing."
Dunn talks to native studies classes
Rekstad said the letters brought Dunn to tears and prompted him to schedule a May visit to the two Native American Studies classes he teaches.
"He brought BarryBerry ice cream and SDSU T-shirts and we gave him a Washington High Warriors T-shirt," said Rekstad, who noted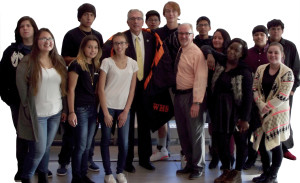 that Dunn made the trip without an entourage. "Some of the boys came out and helped him carry in the ice cream and T-shirts."
The students, ninth- to 12-graders, loved Dunn's visit, said Rekstad, who also was meeting Dunn for the first time.
"First of all, they found out it's Dr. Barry Dunn, but he said call him Barry. They found out how humble he is. In a way, he is quite common. He doesn't like to speak to crowds," Rekstad said. "He's real honest. He became a grandfather to the students.
"During a talk to one of the classes, one of our seniors, Megan Hudecek, raised her hand and said, 'I'm going to be going to South Dakota State next year and I'm Native American.' He said, 'Can I stop you right there? Come to my office when you get to campus and we'll talk.' The students and I talked afterward. I said, 'What president of a large university in America would say that, and mean that?' He wasn't just saying that," Rekstad emphasized.
Dunn talked with and took questions from the students during the two 50-minute classes and then talked with Rekstad afterward.
Students bestow Dunn with star quilt
In July, Dunn sent an invitation for Rekstad and his students to attend the Sept. 29 presidential inauguration.
Rekstad and 13 of the letter writers did so and presented a Washington Warrior star quilt to Dunn during a post inauguration reception at Club 71 in the Dana J. Dykhouse Stadium. The students, members of the Okiciyapi Club, bought the quilt with proceeds from club projects.
The club, which translates To Care for One Another, bestows quilts to those they wish to honor, such as an outgoing superintendent or principal.
The club chose to tap its treasury to purchase a quilt for Dunn, who didn't know he would be receiving the gift. The arrangements had been made with a couple of Dunn's assistants. Zayda Zuniga made the presentation and brief speech, which was followed by photos, hugs and tears from some of the girls, Rekstad said.
"The culmination was wrapping him up with a Washington Warrior star quilt. He officially became a Warrior at that time," the teacher said.
"It was pretty overwhelming just because of the fact that from one act of kindness (of writing letters), this evolved," he said.
Dunn found it overwhelming as well. "The star quilt event, which symbolizes bringing the recipient into their family, was a total surprise and certainly one of the highlights of my life. I am now a 'Warrior,' and couldn't be more proud," Dunn said.
Future promises more involvement
Giving the quilt started another cascade of ripples. Jane Dunn, the president's wife, sent an email stating how much the gift meant to Barry, Rekstad said.
About a month later, Dunn emailed Rekstad to ask what SDSU could do for his school and his students. "He's going to come back and do some advertisements for the school district to promote attendance, and he is going to help us with Indian education. He also wants SDSU students to be involved. We are going to meet to figure out how and what we can work on which will benefit our Native American students," Rekstad said.
By the way, the Washington High students visited their former classmate, Megan Hudecek, while in Brookings for the inauguration. Rekstad said, "She was in the orchestra, and now part of the SDSU family.
"I'm really encouraging my students to enroll at SDSU. It's a trickle-down effect."
Dave Graves