1980 graduate directs Marine Corps Special Operations
Mark Clark didn't enlist in ROTC when he was a student at State, and it was no longer required of male freshmen and sophomores.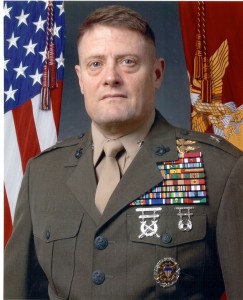 But the 1980 economics major says he always had an interest in the military and flying. So "after I graduated from SDSU, I decided I wanted to fly and that I wanted to join the Marine Corps. Fortunately, both of those goals worked out," he says.
That would be an understatement.
Clark, who uses the call sign "Droopy," has logged thousands of hours as a naval aviator, served in historic aviation units such as the Black Knights, Green Hornets and Iron Horses, and currently is chief of staff at U.S. Special Operations Command at MacDill Air Force Base, Tampa, Fla.
Core activities of Special Operations include counterterrorism and counterinsurgency operations.
Particularly since Sept. 11, 2001, it has become a key element of U.S. military operations. Clark has been in his current position since May 16, 2011. Previously, he was director of operations for Special Operations. His next move is commanding general of Marine Corps Special Operations Command.
As chief of staff for the commander of Special Operations, he oversees 4,000 plus personnel at U.S. Special Operations Command, which has responsibility for more than 60,000 assigned to the Special Operations enterprise.
First entry to Special Operations
Clark got his first taste of Special Operations work in 1992, when he was selected to be an exchange pilot with the 20th Special Operations Squadron. Later, in 2000-01, he commanded the Iron Horses helicopter squadron that conducted several deployments, including to Greece.
In November 2001, Clark was assigned to Special Operations in Kandahar, Afghanistan.
"I was selected because of my previous assignment and my aviation background. Since that time I have bounced back and forth with Marine Corps assignments and Special Operations assignments," says Clark, who, in 2003, worked with a division responsible for global war on terrorism plans.
In June 2007, he was assigned to a planning division at Marine Corps headquarters at the Pentagon.
Remembering military milestones
Since June 2009, Clark has been assigned to Special Operations Command headquarters in Tampa, Fla.
Despite the prestige of being a Special Operations leader, Clark says his most memorable military accomplishments are getting his commission after graduating from Officer Candidate School in August 1981, and "having the privilege of being a commander.  It's the people that make it most memorable," Clark says.
His accomplishments were recognized by SDSU when he was named a Distinguished Alumnus in 2009.
A native of Beaver Creek, Minn., and a graduate of Hills-Beaver Creek High School, Clark received an honorary doctorate from SDSU at the May 2010 commencement service, where he also was the speaker for the undergraduate ceremony in Frost Arena.
Recalling Hansen Hall days
His grooming for Special Operations work may have begun on third floor Hansen Hall, where he lived his sophomore through senior year.
"Living there was truly unconventional …," says Clark, adding that he recalls Hobo Days as being some of his most memorable moments during his time at SDSU. "It was always such a great time out there with your friends," he says.
Mark and Lisa (Nichols) Clark live in Lithia, Fla., and have three children, Rachel, Nicholas and Mary.
Dave Graves