Pat Lyons recently retired from South Dakota State after being diagnosed with Alzheimer's. Steve Hildebrand, a former student, writes about his friendship with Lyons from professor to mentor and hunting partner. Hildebrand is a Mitchell native and 1985 SDSU graduate, majoring in political science. He served on the Hobo Day Committee and as Student Federation President during his years at State. He owns Josiah's Coffeehouse and Cafe in downtown Sioux Falls.
When I saw Pat Lyons '68 for the first time in about 18 months, he had recently retired from teaching after nearly 40 years of dedicated service at SDSU. His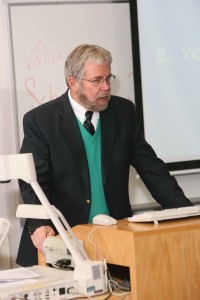 diagnosis of Alzheimer's pushed up his retirement years before he was ready.
I always love spending time with Pat—and this time was no different. Pat, along with his wonderful daughter, Mandy, and his two grandchildren, Chet and Wyatt, had just spent several hours at the Great Plains Zoo in Sioux Falls. I met them outside and spent a great afternoon together visiting at my house and then having pie and ice cream at my coffeehouse.
In our talk that day, Pat was most upset that he had to give up teaching early. After all, he loved his career and considered himself the luckiest man in the world to have found his life at SDSU. He was aware of developing Alzheimer's and said, "I guess you've heard that I developed the dreaded disease?" I told Pat that it was OK to say the word; that we're all going to get something.
Pretty tough to put a positive spin on this dreaded disease.
I was a student at State in the 1980s and began a lifelong friendship with Pat. He was my professor, my ad hoc academic adviser, my
mentor, my landlord and my hunting and racquetball partner.
Like thousands of others, I was one of those blessed to have crossed paths with this special man.
Professor Pat Lyons spent 39 years at South Dakota State University where he would tell everyone how lucky he was to have the best job in the world.
No doubt, we were the lucky ones.
V.J. Smith, the former director of the SDSU Alumni Association, has known Pat since the 1970s. Pat was in his early years of teaching then; V.J. was halfway to his undergraduate degree.
"I remember taking 'Business Law I' with Pat in 1976, just a couple of years after Pat started at State. Pat became energized when he stood before a classroom, as if
an energy force invaded his body," Smith said. "With Pat, students wanted to hear what he had to say. To attend Pat's class was fun and you got to learn at the same time."
I can't believe I get paid to do this.
Professor Chris Rasmussen was a colleague of Pat's in the economics department for nearly 30 years and continues a close friendship today. Lyons was a mentor and sounding board for Rasmussen.
"Pat was a legend among students. His reach was pretty far and pretty deep," he said. "Pat waltzed into the office early in the morning and stayed late every day. His love for the students is what drove him. He constantly said how much he loved his work and that he
couldn't believe he would get paid to do this.
Rasmussen talked of Pat's almost "evangelical-style of teaching" and his ability to motivate students to learn. "Pat had a gift of how to present and drag a student into learning," he said. "He was a salesman and knew how to sell his product."
Professor Jamie O'Brien's office was across from Pat's for many years, giving her a firsthand view of Pat's love and dedication toward students.
"Pat loved being around students and enjoyed one-on-one time advising them in his office," she said. "Students could sense that he really cared about them." She also witnessed Pat's frustration with technology with the occasional kicking of his computer and a few curse words, too.
Penny Stover is a longtime secretary in the economics department and worked closely with Pat for decades. She heard from many students that said the best class they ever took at SDSU was one with Lyons.
"Students knew he cared and that he always had their best interests in mind," she said.
Julia Karlstead was Pat's day-to-day secretary. It was Pat's love for his work that left such an impression. "Pat came in early in the morning to make sure he was prepared for his classes. He never missed work and at the end of his time teaching, he had two full years of time built up," she said.
Karlstead talked about the following that Pat had among students. "His classes were always full and each semester there was a big waiting list," she said.
In January 2012, following Christmas break, Pat arrived in his office in Scobey Hall. He got there early, as was his routine nearly every day during his long tenure at State. But, this time when he sat at his computer, he struggled to find his coursework to prepare for his lecture. He called in Karlstead for assistance. When she told him the information was on his zip drive, Pat was confused and acted as if he had never seen the computer device before. It was that moment—and probably a few others—when Pat, and the people around him, knew something was different.
The very next day, Pat returned to Scobey Hall and visited Eluned Jones, the head of the Department of Economics. On this day, Pat told his boss he just couldn't do it anymore.
What a gut-wrenching feeling it must be to have that kind of self-awareness—that you've been diagnosed with Alzheimer's and that your life is changing. I watched my own sister, Carla, go through this in her early 50s. Now, my friend and mentor—and the man who influenced more than 23,000 students at SDSU— was dealing with it, too.
Pat Lyons did so much in his time at SDSU. He taught a full course load each semester, served as the Students' Association Legal Aid Attorney for more than 30
years, advised the Hobo Day Committee, Economics Club and hundreds of economics students individually. Pat also spent many Saturdays as the lead recruiter for the athletic department. He is credited with helping to recruit many gifted student-athletes to State.
Outside campus, Pat kept busy, too. He spent 37 years in the South Dakota Army National Guard, reaching the high level of colonel and outranking his own father, who served as lieutenant colonel. Pat has been an avid hunter and loved the game of golf, which he still plays today. He is a landlord and dog lover.
Pat has been married to Nancy Lyons '74, a longtime popular faculty member in the College of Education and Human Sciences, for 36 years. They have two grown children; Mandy '07 and Meghan, and two grandchildren, Chet and Wyatt, who belong to Mandy and her husband, Billy '07.
Just last year, the South Dakota Board of Regents endorsed a proclamation recognizing Pat with the title professor emeritus in economics. From the long list of accomplishments cited in the proclamation, this one sentence stood out to me: "Professor Lyons was an outstanding scholar and excellent teacher who challenged and inspired over 23,000 undergraduate students to achieve excellence through his teaching."
Pat Lyons challenged and inspired virtually everyone he connected with. What an honor it is to call him my friend.